New faculty hit the ground running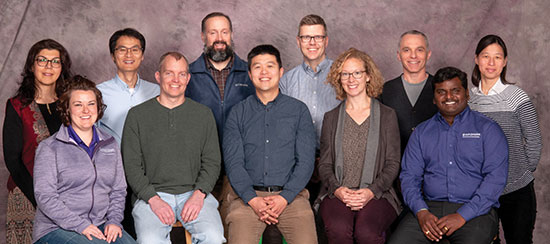 Faculty participating in the K-State Agricultural Research Scholars program (from left): Shahideh Nouri, Jessica Rupp, Yi Zheng, Kristopher Silver, Jeremy Cowan, Michael Chao, Joseph Janzen, Sarah Janzen, Brian Spiesman, Kaliramesh (Kali) Siliveru and Tania Kim.
Faculty come to K-State to build upon existing programs and generate new ones related to emerging agricultural issues.
To get new faculty up to speed on processes and grant-funding opportunities, the college offers the K-State Agricultural Research Scholars (K-StARS) program.
"We do very well in hiring new faculty, but success in the new research economy is very complex in the current economic climate," said Martin Draper, interim associate dean of research and graduate programs.
"This additional effort with our new faculty has helped build collaboration among the cohort and contributed to increased success in bringing external funding to K-State and the new scientists' research programs. That funding advantage grows knowledge faster and gives students exposure to new creative ideas."
Eleven recent hires in six departments are participating in the current K-StARS program, and they bring a broad range of skills to enhance College of Agriculture teaching and research. Some are K-State alumni, most have worked at other land-grant universities, and others have international experience.
Commodities and poverty
Sarah Janzen's research focuses on global poverty and international agricultural development. Her research spans three areas: theoretical modeling of poverty and asset dynamics; risk and agricultural finance in developing countries; and impact evaluation of anti-poverty programs.
She has ongoing research projects in Kenya and Nepal and teaches Contemporary Issues in Global Food and Agricultural Systems in the fall semester.
Joseph Janzen conducts research on price and trading dynamics in agricultural commodity markets. He also teaches classes in agricultural marketing and farm management.
He holds B.S. and M.S. degrees in agribusiness and agricultural economics from the University of Manitoba, and he earned a Ph.D. in agricultural and resource economics from the University of California, Davis. Before joining K-State, he was an assistant professor at Montana State University.
Specialty food crops
Jeremy Cowan is building a sustainable food-systems program and providing educational opportunities for students and the community at the Willow Lake Student Farm. He teaches Fruit Production, Vegetable Production, Sustainable Agriculture, and other courses.
His research focuses on regenerative agriculture in specialty-food crop systems and will explore the possible contributions of biodegradable plastics and permaculture, an agricultural system or method that integrates human activity with natural surroundings to create self-sustaining ecosystems. He also looks at the sociological impacts of sustainable-agricultural education.
Insects — good and bad
Tania Kim's research program examines how land management and landscape diversification affect the biodiversity of beneficial insects including natural enemies, pollinators and decomposers and the ecological services they provide. The conversion of natural areas to agriculture has increased dramatically over the last 50 years, and this transformation increased the use of pesticides, habitat disturbance through tillage and crop harvesting, and loss of food resources.
She teaches Economic Entomology, where students learn how both harmful and beneficial insects affect humans, how to identify them in the field, and how to manage them, plus an upper-level insect ecology course.
Brian Spiesman studies relationships between insects, plants and the changing environment. His research focuses on how land use and climate change affect biodiversity, how species interact within a community, and their ability to perform essential services, such as pollination. Kim and Spiesman work together on two USDA-funded projects.
Kristopher Silver's research interests involve insect toxicology — the physiological and molecular interactions between insects and insecticides. To understand how insecticides work, he looks at how a chemical affects a biological system. He teaches Entomology Seminar, Insecticide Properties and Laws, and co-teaches a special topics course called Molecular Entomology Laboratory.
"As a teacher, it is really special when you are trying to get a student to understand a topic or procedure, and then you see that light go on in their eyes," said Silver. "They finally do it or see how everything works or have that 'wow' moment, and it's really wonderful to see them grow."
Grain processing
Kaliramesh (Kali) Siliveru '16 teaches courses on particle technology, advanced grain processing technology, and grain handling. He also conducts research related to grain processing, food safety and storage. He is leading a project on computerized modeling of grain processing, re-creating the life of flour from a wheat stalk in a farmer's field to the consumer's kitchen.
"You have to make certain the entire chain is clean," Siliveru said. "Computerized modeling provides a fuller understanding of where E. coli or other pathogens that may be found in the supply chain from farm to fork."
Yi Zheng brings both industry and research experience to the department. His primary focus is biomanufacturing. He said creative freedom that comes with working in academics led him to K-State.
"Dr. Zheng is expected to broaden our approach to fermentation biotechnology," said department head Gordon Smith. "He is currently working on innovative projects to produce high-value materials from low-value input."
Meat science
Meat scientist Michael Chao teaches undergraduate and graduate classes and advises the Meat Science Association. His research interests are in meat lipidomic (the study of pathways and networks of cellular lipids in biological systems) and developing, niche meat-processing techniques to serve the needs of domestic-ethnic markets and international markets.
Chao said he considers undergraduate research an important part of his teaching responsibility.
Plant diseases
Shahideh Nouri teaches a graduate-level plant virology course. Most plant viruses are transmitted by arthropods, such mosquitoes, flies, lice, fleas, ticks and mites.
She studies the molecular biology of virus-vector interactions, virus evolution, and the role of vectors' natural microbiome in the virus transmission. Vectors are agents that carry and transmit an infectious pathogen into another living organism.
After earning a Ph.D. in plant pathology from K-State in 2015, Jessica Rupp accepted a position with Montana State University.
In 2018, she returned to K-State to head the Applied Wheat Pathology Laboratory. Her program focuses on diseases affecting wheat — Fusarium head blight (scab), wheat streak mosaic complex, the leaf spot complex, barley yellow dwarf virus, and the root rot complex — with particular emphasis on disease phenotyping of both commercial and elite breeding lines from Kansas, Nebraska, Montana, North Dakota and South Dakota.
The lab looks at how farmer practices influence wheat diseases, including the use of cover cropping, grazing and fallow-land practices.