Bringing current topics into the classroom
The economics just made sense to me and were exciting. - Nathan Hendricks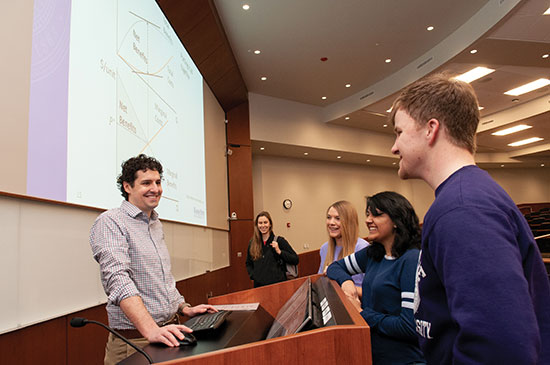 Farmers face difficult decisions such as whether to irrigate and how much, what to plant, and when to sell what they have harvested. K-State agricultural economists analyze how multiple factors such as weather, water supply, global markets, government programs, and crop insurance can influence daily decision-making. The next step is to get their findings into the hands of the decision makers on farms and students in the classroom.
When Nathan Hendricks enrolled at K-State, he knew he wanted to be in agriculture but wasn't sure of a major until he took Introduction to Agricultural Economics taught by Bryan Schurle.
"The economics just made sense to me and were exciting," said Hendricks. "It convinced me to start going down that road to my degree. Being a teacher didn't cross my mind until my senior year. My brother, Chad ['02], was working on a master's degree, so I started thinking about a master's degree and teaching."
Hendricks completed a bachelor's degree in 2005 and a master's in 2007. He earned a Ph.D. at the University of California, Davis in 2011 then returned to the K-State Department of Agricultural Economics as an assistant professor, with responsibilities in research and teaching.
Research collaborations
The overall goal of his research program is to better understand how economic incentives affect the supply of agricultural products and the interaction between agricultural production and the environment and natural resources. This often leads him to focus within three areas: agricultural policy, land use and water.
He's involved with fellow faculty members in multiple research projects related to land values both dryland and irrigated land (Mykel Taylor, Gabe Sampson); the impact of new technologies that provide yield prediction during the season (Jisang Yu); estimating how GMOs have increased corn yield over time (Jesse Tack); and global analysis of international trade (Nelson Villoria).
"Our young faculty are really fantastic," said Hendricks. "There are so many possible collaborations."
He also works with faculty in other departments and off campus. Hendricks is part of a National Science Foundation grant with Jonathan Aguilar, extension specialist at the Southwest-Research Extension Center, and Stacy Hutchinson, professor in biological and agricultural engineering.
In the classroom
Hendricks teaches Contemporary Issues in Global Food and Agricultural Systems in the spring semester, and two graduate courses, Quantitative Topics in Agricultural Economics and Price, Income, and Trade Policies in Agriculture. He advises about 30 undergraduate students and is the major professor for at least five doctoral students.
Incorporating his research interests into the classroom benefits students, especially in the contemporary issues class (AGEC 315). He also brings in guest speakers to talk about current topics.
"Dr. Hendricks provides a refreshingly unique economic classroom atmosphere, complete with large-group interactive experiences and tangible zeal for the subject matter," said Sydney Gottlob, junior in agribusiness. "His AGEC 315 class encourages individualized critical thinking that is relevant to all types of majors and walks of life."
Dwane Roth, a Finney County producer, and Brownie Wilson, GIS/support services manager with the Kansas Geological Survey, talked to the class about water conservation issues, including depletion of the Ogallala Aquifer.
"The students really enjoyed interacting with them," said Hendricks.
Afterward, Roth contacted Hendricks with a proposal for Roth, Hy-Plain Feedyard and Conestoga Energy to sponsor a class competition to hear what students thought producers should or shouldn't do about the depleting aquifer.
The students were up for the challenge. They wrote proposals on what should be done and why. Next, the class evaluated the proposals, chose the top three and forwarded those to Roth to share with associates.
For their hard work, students with the winning proposals got a year's supply of Varsity Donuts.
"The students really got into the 'Water for Donuts' challenge," said Hendricks. "More than the prize, the students liked that someone was interested in hearing what they had to say."
Other popular class topics include the economic impact of tariffs, the history and projections for world supply and demand for food, dicamba drift, agriculture and the environment, and international poverty.
"The section on international trade used to be hard to motivate," said Hendricks. "This year, international trade was the topic students were most excited about at the beginning of the semester."
While many of the topics covered in the class are controversial, Hendricks said student discussions are respectful. He always tries to provide both sides of an argument to help students appreciate different views and to better defend their own views.
Sharing results
As a land-grant institution, K-State has a mission of teaching, research and extension. And that means getting research results to the public.
Faculty are encouraged to publish in journals, which reaches colleagues across the United States and beyond. They also present results to broader local audiences. Hendricks recently gave a presentation to producers in St. John, Kansas, about the impact of potential water use restrictions because of an impairment complaint regarding Quivira National Wildlife Refuge.
He speaks at the annual Risk and Profit Conference and the Governor's Conference on Water. Eric Atkinson '78, '82, agriculture director for the K-State Radio Network, also has interviewed him several times for "Agriculture Today."
Last summer, Hendricks was invited to participate in a roundtable discussion about agriculture and the environment led by the Breakthrough Institute. The roundtable featured major environmental organizations, some agriculture technology firms and lobbyists.
"Engaging in those discussions is critical, so paths pursued by these thought leaders offer cost-effective solutions and avoid unintended consequences," said Hendricks.