Agronomy Faculty Garner Major Recognitions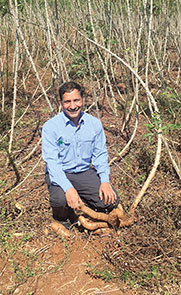 Vara Prasad, university distinguished professor and director of the U.S. Agency for International Development Feed the Future Innovation Lab for Collaborative Research on Sustainable Intensification (SIIL), received the Irvin E. Youngberg Award in Applied Sciences.
Prasad's research mainly focuses on understanding responses of food grain crops to changing environments — temperature, water, and climate variability — and developing suitable farming systems with efficient crop, soil, and water management strategies to enhance grain yields.
As director of SIIL, Prasad provides overall leadership and oversees all research and capacity building activities. He leads a network of 100 scholars from 40 national and international organizations. SIIL conducts interdisciplinary, knowledge-sharing and capacity-building activities to improve food and nutritional security of smallholder farmers in Asia (Bangladesh and Cambodia) and Africa (Burkina Faso, Ethiopia, Malawi, Senegal, and Tanzania).
The award includes a citation and a $10,000 award for ongoing research efforts, which can be used for research materials, summer salaries, fellowship matching funds, hiring research assistants, or other support related to research.
The Youngberg award is part of the Higuchi-University of Kansas Endowment Research Achievement awards that recognize faculty at Kansas Board of Regents universities. The awards were established in 1981 by Takeru Higuchi, a distinguished professor at KU, and his wife, Aya.
---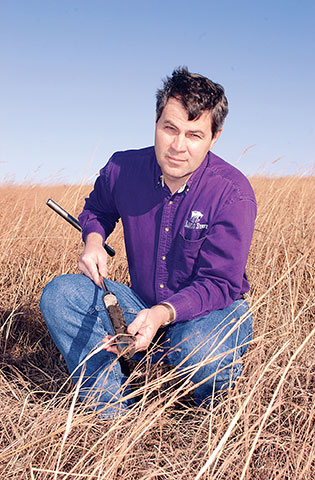 Charles "Chuck" W. Rice, university distinguished professor, received the $5,000 Iman Outstanding Faculty Award for Research. He teaches courses and conducts research on soil carbon and nitrogen, microbial ecology, and how climate variability impacts agriculture.
The annual award is sponsored by the K-State Alumni Association and made possible through the generosity of Ron and Rae Iman.
John Floros, dean of the College of Agriculture and director of K-State Research and Extension, nominated Rice. "Dr. Rice's achievements in research have followed his success in obtaining extramural funds," Floros said. "Over his entire career, Dr. Rice has been associated with more than $44 million in grants from highly competitive programs."
For example, Rice and Walter Dodds, university distinguished professor of biology, will lead an interdisciplinary university team collaborating with four other Kansas universities to investigate how microbiomes of aquatic habitats, plants and soils — known as MAPS — can enhance agricultural productivity, mitigate environmental problems, and conserve native grasslands.
One area the group will investigate is how microbes associated with water quality differ in cropland and natural grassland, and how those microbes wash into water and, for example, make it more susceptible or resistant to harmful cyanobacteria blooms that can make people sick.
The K-State group will receive $2.65 million of the total $20 million award. The work is funded through the National Science Foundation Established Program to Stimulate Competitive Research, or EPSCoR, which aims to build research and development capacity.
Rice, recipient of the Mary L. Vanier University Professorship, has earned awards for his international accomplishments from K-State and various national professional organizations. Rice serves on the board of trustees for CIAT, the International Tropical Agriculture Research Center based in Cali, Colombia. He also chairs the board on agriculture and natural resources of the U.S. National Academies of Science, Engineering, and Medicine.