Faculty Earn National Awards
Chad Miller, associate professor of horticulture, and J. Ernest "Ernie" Minton, associate director of research and associate dean of research and graduate programs, were honored by the Association of Public and Land-grant Universities at the 130th APLU Annual Meeting in Washington, D.C.
Miller, who joined K-State in 2011, earned a 2017 U.S. Department of Agriculture's Best New Teacher Award for Food and Agricultural Sciences. It includes a $2,000 stipend to strengthen the honoree's teaching and advising program.
In addition to teaching several horticulture courses, including an orientation course, he advises an average of 25 students, serves as co-advisor for the Horticulture Club, and helps develop and lead departmental international study-abroad experiences. Miller was chosen to speak at the 2017 fall commencement ceremony.
Horticulture senior Amanda Woolley has taken Miller's plant propagation and plant identification courses.
"Dr. Miller's classes are not easy," Woolley said. "But everything I learn is applicable to my future, and that's important in my field. He challenges his students to do better and makes the content relatable and interactive."
During his K-State tenure, Miller has received the Perennial Plant Association Academic Award, North American Colleges and Teachers of Agriculture Educator Award, APLU Innovative Teaching Award, Big 12 Faculty Fellow, and the Greenhouse Product News Top 40 under 40 Award as well as numerous teaching and advising awards from the university and college.
Excellence in Leadership
Minton received the 2017 Experiment Station Section Award for Excellence in Leadership. He was also recognized in April 2017 for serving consecutive terms as chair of the North Central Region Association of Experiment Station Directors.
In his dual role as associate dean and associate director, he is responsible for administration of research and graduate programs in the college and the broader research mission of the Kansas Agricultural Experiment Station, which includes faculty in the colleges of Veterinary Medicine, Arts and Sciences, Engineering, and Human Ecology. During his tenure in these roles, grant awards in the college increased from approximately $20 million annually to more than $50 million annually.
During the 2012–2013 academic year, he initiated the K-State Ag Research Scholars (K-StARS) program to help new faculty get acquainted with resources on campus and at the national level. The program includes taking faculty to Washington, D.C., to meet with federal funding agencies.
Minton joined the K-State faculty in 1983. Before entering research administration in 2008, he held a research-teaching position in the Department of Animal Sciences and Industry. He has mentored 24 graduate students and five undergraduate research scholars.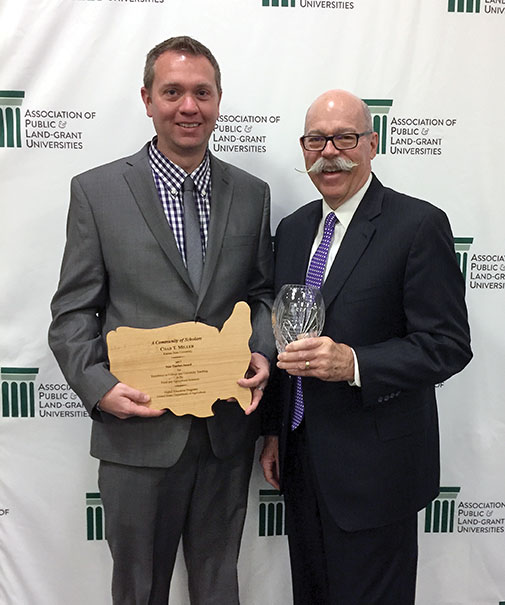 Left: Chad Miller, Right: J. Ernest "Ernie" Minton