Agronomist Earns Award Trifecta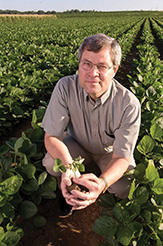 A lifelong commitment to international advancements in soil improvement and cultural exchanges has earned a Kansas State University professor international recognition.
Chuck Rice, university distinguished professor of agronomy and recipient of the Mary L. Vanier University Professorship, will receive three prestigious awards this fall.
The International Agronomy Award from the American Society of Agronomy recognizes outstanding contributions in research, teaching, extension, or administration made outside of the U.S. by a current agronomist.
For his outstanding contributions to soil science on the international scene, Rice will receive the International Soil Science Award from the Soil Science Society of America.
The Hugh Hammond Bennett Award is the highest honor bestowed on an individual by the Soil and Water Conservation Society. It recognizes national and international accomplishments in the conservation of soil, water, and related natural resources.
Rice represents K-State on numerous boards including the board of trustees for the International Center for Tropical Agriculture (CIAT).
"For decades, Dr. Rice has been a tireless champion of innovative soil science and its importance for sustainable agriculture around the world," said CIAT's director general, Ruben Echeverria.
Dorivar Ruiz Diaz, K-State associate professor of agronomy, added, "During his career at K-State, Rice has made a significant contribution to international agronomy and soil science through teaching, research, and service.
"Dr. Rice has had multiple international teaching activities through formal classroom teaching and informal student tours. He has encouraged faculty to gain international experience and lead student tours. K-State Agronomy now has a regular course for international experience as a direct result of Dr. Rice's effort."
Rice endowed the Chuck and Sue Rice International Agronomy Lecture Series to attract prominent scholars to interact with K-State students and faculty on international aspects of agronomy, agriculture, and the environment.