Choose your own adventure
Broad job choices await agricultural education grads as demand far outstrips supply of qualified teachers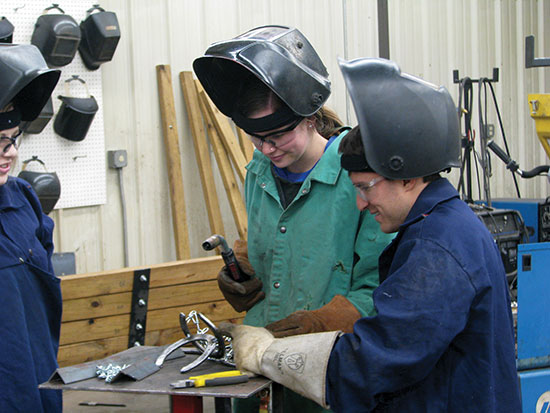 Growing up in Plainville, Kansas, Alexandra Walters considered a career in social work or education, but decided to teach about agriculture.
Walters graduated in 2018 and is a first-year agricultural education teacher at Peabody-Burns Middle School-High School in Peabody, where she teaches classes in plant science, animal science, food science, agricultural mechanics and more.
"My students enjoy anything they get to design themselves," she said. "For their fall final, my Food Science class created its own Christmas-cookie business where they were tasked to take a traditional recipe and swap a nutrient to make it healthier.
"The students had to conduct sensory analyses and reviews with their peers in the school and reevaluate their recipe. The project went over really well, not only with students in the class, but also those around the school."
The path was not as clear for Anthony Meals, who grew up in a military family that moved frequently.
"I did not take my first ag course 'til I was a junior in high school when we moved to Clay Center," Meals said. "I had a long desire to be an educator, but I was always waffling between being a history teacher or English teacher. It was not until I took an ag class that I knew this is what I was being called to do."
A 2014 K-State graduate, Meals is in his fifth year of teaching agriculture at Blue Valley High School in Randolph.
Growing need for teachers
Meals and Walters are part of a growing trend in middle schools and high schools to offer agricultural education programs, and colleges and universities can't turn out graduates fast enough to meet demand.
"There is a nationwide shortage of agriculture teachers," said Brandie Disberger, '01, '03, an instructor in the Department of Communications and Agricultural Education. "Here in Kansas we are only graduating about half the needed agriculture teachers. We have had 100 percent placement in this major for over 20 years."
While some students put their skills and knowledge to work in production agriculture after high school, many further their education by moving into university agricultural education and other higher-education programs. They then have a range of career opportunities available to them, including going back into the classroom to teach others.
Disberger, who taught high school agricultural education for 10 years before returning to K-State, said there are ag education openings in urban and suburban school districts as well as in rural areas.
The K-State program is relatively small. Agricultural education classes typically range from 12 to 25 students. Currently there are 90 undergraduates in the program, with about 20 graduating each year. Disberger anticipates more than 25 graduates in 2020.
Students with an interest in agriculture and a passion for working with people make excellent candidates, Disberger said, noting that as of May 2018, average starting salaries in Kansas for students with a bachelor's degree in agricultural education were more than $40,000.
Importance of agriculture
"It is critical — for people and agriculture — that people understand how agriculture and the industry impact their lives," said Jonathan Ulmer, associate professor of agricultural education. "High school agriculture guides students through career exploration and preparation through the classroom, laboratory, FFA and work-based learning."
The breadth of training lends itself to a range of career opportunities, Disberger said. About 80 percent of K-State's graduates go on to teach at the high school level, but some choose careers in extension. Others work in agriculture-related sales or service positions, nonprofit organizations, or pursue advanced academic degrees.
Students study a variety of topics, from energy systems to animal science to plant systems; food products and processing; biotechnology in agriculture; power, structural and technical systems; and more.
Agricultural education students learn through classroom and laboratory work, but also through experiential learning, typically outside the classroom. Many high schools also use the National FFA Organization and other programs to help students hone their leadership skills.
When asked about his students' favorite project, Meals said it depended on where their interests were, for example: "If you asked my Ag Mechanics students, it would be individual woods projects; if you asked my Vet Science class, it would be either the surgery training unit or animal grooming unit; if you asked my Applications in Horticulture class it would be the annual spring landscaping project around our school; and if you asked our Ag Engineering students, they would describe troubleshooting prototype designs on 3D printers."
Disberger noted the number of Kansas FFA chapters had grown to 198 in 2018 from 181 in 2016. "Some individuals think that career and technical education programs, including agricultural education, are closing in high schools when it is just the opposite," she said. "They are growing rapidly."
What's at stake? In Kansas alone, agriculture contributes nearly $62.8 billion to the state's economy, about 43 percent of the total. The state's farmers and other agricultural businesses produce $4.2 billion in exports to countries around the globe.
Educating middle, high school and college students — who in turn contribute by becoming better teachers, farmers, ranchers, industry and community leaders — is the goal.