Full Market Value
Employers prize K-State agricultural technology management graduates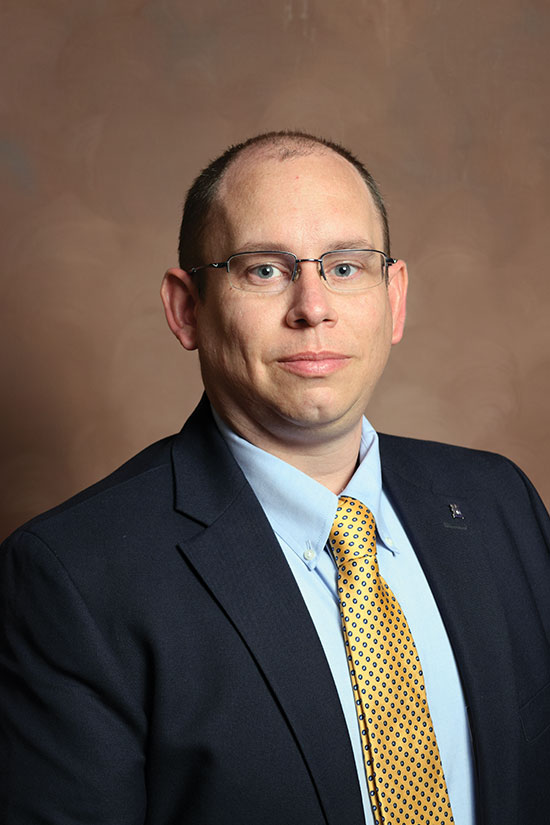 When Grant Good graduated from K-State's agricultural technology management program in 2007, he carried with him a résumé thick with experience.
It was no surprise that Good went from the graduation stand to a successful career at AGCO Corporation, an agricultural equipment manufacturer in Hesston, Kansas. He's been there ever since, currently working as an engineering manager developing and testing farm equipment.
"I was able to take advantage of flexibility in the curriculum the ATM program offers, and that really helped me learn a lot of things in areas that people in more specialized programs don't often get exposed to," said Good, whose four-year program in ATM allowed him to earn double minors in agronomy and animal sciences and industry. He also completed a master's of agribusiness in 2013.
College collaboration
The program is unique because students earn a degree from the College of Agriculture, even though the students are advised by, and the courses are taught by, faculty in biological and agricultural engineering. Faculty often hold dual appointments in the colleges of Agriculture and Engineering.
Good's example represents another distinctive aspect of the program. The ATM curriculum provides a wide range of electives, which allows students to design their college degree to a career objective they are passionate about.
"If we have students who have a strong interest in technology, they usually choose to enroll in more technology-related courses," said John Slocombe, professor of biological and agricultural engineering and ATM teaching coordinator.
"And likewise, if we have students who have a stronger interest in the agricultural sciences — commonly agricultural economics or agribusiness — they may choose to enroll in more courses from those disciplines."
Program evolution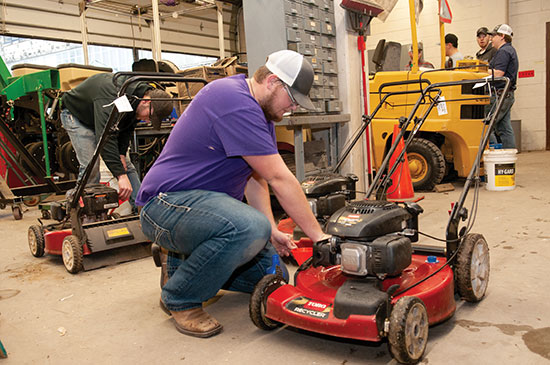 Known as agricultural mechanization until 1991, ATM's roots go back to 1961, when students enrolled to boost their acumen in mechanical-related, agricultural businesses.
Today, Slocombe says, the program focuses on applied engineering concepts, agricultural sciences and business management. Students such as Good often find themselves with job offers before they have graduated.
Slocombe, who earned a degree in agricultural education in 1977, said the program's placement rate is routinely 100 percent, and those students start at an average annual salary of $50,000.
According to data from the Kansas Board of Regents, K-State's ATM grads earn an average annual salary of nearly $65,000 after just five years on the job.
"The job market for ATM graduates clearly is not saturated," said Lisa Wuggazer, biological and agricultural engineering academic program specialist. "For example, employers can't find enough people with a background in precision agriculture, and that's a high interest area to our current students. Because that market is a hot commodity, it's a good area for students to be interested in right now."
Slocombe noted many graduates pursue precision agriculture and other machinery-systems career paths; while others choose careers as grain marketers and terminal elevator managers for large companies such as Cargill, Bartlett Grain and Conagra.
Others, he added, may select careers in natural resources with governmental agencies, such as the Natural Resource Conservation Service and Farm Service Agency.
"It's really a progressive approach to academics," Slocombe said. "We are continually looking at ways to improve our curriculum to ensure relevancy and marketability of our graduates."
Related activities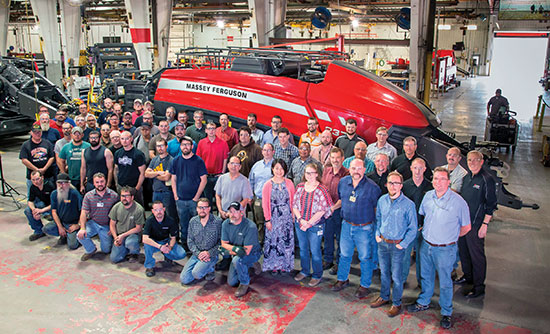 There are approximately 60 students in the program, many of whom are involved in the ATM Club or the Quarter-Scale Tractor Club teams, both are highly visible on the K-State campus.
The ATM Club's biggest fundraiser is a lawnmower clinic in which students provide full maintenance on homeowners' lawnmowers prior to the spring mowing season. The Quarter-Scale Tractor Club has won many international competitions.
"Teamwork activities, where they have to work as a group, work at getting along, make decisions and assume leadership roles for a common goal, are all valuable skills that our students obtain," Wuggazer said. "Those clubs complement their degree."
Slocombe added an average 50 percent of ATM students complete internships during their college career, some for university credit. "Many times, internships lead to a professional position following graduation," he said.
"BAE faculty have connections to many industries and are able to assist students with locating internships and career positions," Wuggazer said. "It's all about relationships and making those connections."
It certainly helped give Good a leg up in what has been a fruitful career with his company.
"The job experience that I gained in school was a big piece," he said. "In my career field, it has helped me have a much different customer perspective and practical knowledge in some areas where others may not have had exposure through their coursework."
More information about the ATM program is available online at www.bae.ksu.edu/undergraduate/atm.