More than a Position: A Way of Making a Difference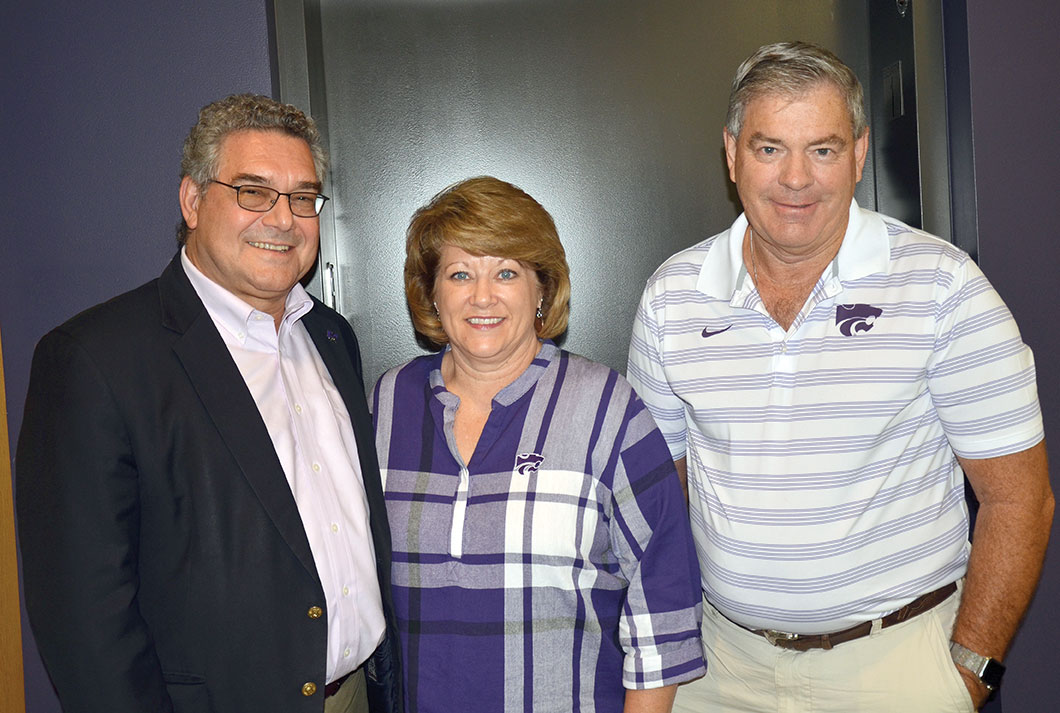 Donnie Young owns and manages Young Farms near Ulysses, and Julie Voelker serves as president of Community National Bank & Trust in Independence. They live on opposite sides of the state and work in different occupations, but Young and Voelker share a common passion for agriculture and Kansas State University.
They have agreed to serve as representatives to the Council for Agricultural Research, Extension, and Teaching (CARET) that was created in 1982 by the Association of Public and Land-grant Universities, or APLU. The volunteers advocate for greater national support and understanding of agriculture.
Young, a first-generation farmer, earned a degree in agronomy in 1978 and was a member of the Kansas Agriculture Rural Leadership Class IV that toured Chile and Argentina.
"All I ever wanted to do was farm," Young said. "Since I was from a nonfarming family, K-State and an agriculture major seemed as close as I could get."
He has served on multiple boards, including Grant County Farm Bureau, Southwest Kansas Groundwater Management District, the Kansas Corn Growers Association, and the Kansas Corn Commission. He also was a member of the College of Agriculture Alumni board, serving a term as president.
Young said he volunteers because, it's always fun to help and meet new people. "Also, I try to do some good," he added.
Voelker (B.S. '86 animal sciences and industry) grew up on a farrow-to-finish hog operation and had been active on the farm from a young age.
"My family was involved with the Kansas Pork Producers, and I had a lot of background on the impact of agriculture on our economy and as a way of life," Voelker said. "I knew I wanted to continue to be involved in the industry somehow. If you are going to major in ag in Kansas, was there anywhere else to go? I was the first in my family to attend K-State."
Voelker also has a long list of community service activities and deep family roots in 4-H and FFA. To explain her affinity for volunteerism, Voelker uses a quote from Lily Tomlin, "I always wondered why somebody doesn't do something about that. Then I realized I was somebody."
"That quote really impacts me," Voelker said. "There are so many things that need changed and people that need help in society today. I feel that God provided me so many opportunities, and it is my responsibility to share what I can with others."
Voelker and Young attended their first CARET meeting in Washington, D.C., in early March.
"Washington is always a fun place to go and always fun to talk and share about K-State," said Young.
"I look forward to advocating," Voelker said. "I feel that K-State Research and Extension and what is being done at the land-grant universities is still vital today. I think we are actually lucky that many of our legislative delegation understands that already, but it certainly doesn't hurt to remind them."