More than a Career
Nearly everyone in the College of Agriculture and K-State Research and Extension plus thousands of students, alumni, stakeholders, and volunteers have benefited from their interactions with Daryl Buchholz and Steven Graham. Both recently retired after more than 20 years of service.
Guiding Principles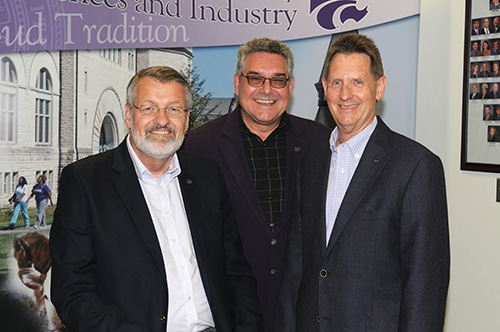 Daryl Buchholz (left) spoke to graduating seniors and their families at the spring 2017 College of Agriculture commencement. He shared three principles that guided his career:
Give it your best and stay positive,
Be a team player, and
Never stop learning.
Buchholz graduated from South Dakota State University, becoming the first college graduate in his family. He earned a master's degree at Oklahoma State University and a doctorate from K-State in 1981.
Next, he worked as an extension soil fertility specialist at the University of Missouri. Buchholz returned to Manhattan in 1992 as a professor of agronomy and assistant director of agriculture and natural resources for K-State Research and Extension.
Twelve years later, he became associate director for extension and applied research, where he provided overall leadership for the day-to-day operations of about 240 agents, 110 faculty, and more than 400 support
staff with an overall budget in excess of $60 million.
At a June 9 retirement reception at the Stanley Stout Center, people thanked Buchholz for his exemplary leadership, dedication to professional development, willingness to listen, fairness, passion for 4-H and all of extension, and being "one who truly walks the talk."
"Daryl reminds me of a table," said Gregg Hadley, who has been chosen to succeed Buchholz. "So many leaders, when being sought out for counsel, stay behind their desks. Daryl's style was different. He would sit at the round table in his office, have you sit next to him, and talk to you. Not as a leader to a subordinate, but as a colleague mentoring another colleague."
Buchholz's leadership skills have also been recognized on the national level. He served as the regional chair of the North Central Cooperative Extension Association and two terms on the Extension Committee on Organization and Policy. In 2013 he chaired ECOP.
He was elected a fellow of the American Society of Agronomy and received the Ruby Distinguished Service Award from Epsilon Sigma Phi, the extension professionals' organization, for his outstanding contributions to the profession.
Buchholz recently received the Kansas 4-H Distinguished Service Award and will be recognized on the national level in November.
Positive Influence
Steven Graham's (right) last official day in his Waters Hall office was June 2; however, he continues to work on several projects.
Graham served as assistant to three permanent (John Floros, Fred Cholick, and Marc Johnson) and two interim (George Ham and Gary Pierzynski) deans of the College of Agriculture and directors of K-State Research and Extension.
An Illinois native, he brought a diverse résumé to the position. After completing a business administration degree at Western Illinois University, Graham spent nearly four years in the Peace Corps in Benin, West Africa. He earned a master's degree in grain science from K-State in 1981 and spent 15 years as administrator for the Kansas Wheat Commission.
In addition to his official K-State responsibilities of coordinating events, working with legislative communications, and representing the organizations at various meetings and events, Graham twice filled in as director of international programs and as director of the Kansas Center for Agricultural Resources and Environment for 14 months.
In 2011, Graham received the Wallace Kidd Memorial Diversity Award for his efforts to boost multicultural enrollment and retention in the college.
Graham's organizational skills, attention to detail, overall knowledge of the college and K-State Research and Extension, and friendly manner resonate with colleagues, alumni, and students.
Friends, colleagues, and students attended his April 14 retirement reception at the K-State Alumni Center. The phrase that appeared on numerous retirement cards was "Some people make more than a career out of their work … they make a difference."
Here are a few other sentiments from the reception:
You are one of the friendliest and most inclusive people I've met at K-State.
Your outreach to students and the entire K-State academy has truly made a difference. We are a better university because of your leadership and commitment.
You have made such a positive impact on so many students, faculty, ag producers, and industry leaders.
It has been an honor to work with and learn from you.
Your friendship has meant the world to me. You have made a positive impact on many, many people and the world of agriculture
I always appreciated you taking the time to discuss ideas and offer advice and support, despite your busy schedule. Your passion and energy will be deeply missed.
You have made KSU agriculture visible and accessible to students and partners.
Long after people forget what you did, they will remember how you did it.