Making a Difference
College of Agriculture alumni make a difference across the state and the country, and dedicated teachers provide the groundwork for students to succeed. Each year, the College of Agriculture Alumni Association recognizes three individuals for their outstanding efforts to promote agriculture and train tomorrow's leaders. This year's winners are Richard Felts, Mike Seyfert, and Jeff Williams.
Distinguished Alumnus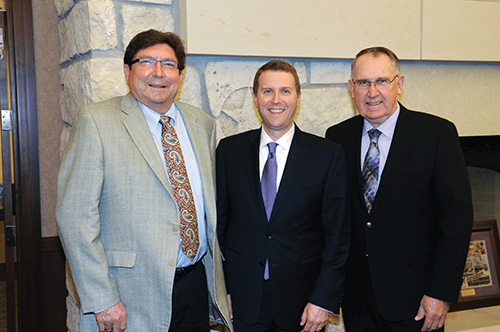 Montgomery County farmer Richard Felts has served in various leadership capacities contributing to his local community and Kansas on behalf of agriculture. In his current role as president of Kansas Farm Bureau, he leads policy efforts on behalf of the organization at the state and federal levels. He also has initiated greater partnerships with Kansas FFA and has made personal investments in developing programs for youth.
He earned a bachelor's degree in animal sciences and industry in 1970 then worked in Arkansas City for two years before returning to the family farm near Liberty. The Felts farm — operated by Rich, his son Darren, brother Larry, and Larry's son-in-law — is a diversified grain operation with wheat, corn, and soybeans. They also grow out breeding stock for a major swine company and maintain a small herd of cattle.
Felts has volunteered as a 4-H community leader and firefighter. He also has served on or chaired multiple county and township boards, including the rural water board, extension council, USD 445 Racial Balance Task Force, and Farm Service Agency.
He toured Germany, Prague, and the Czech Republic in 1993 as a member of the first Kansas Agriculture and Rural Leadership (KARL) Class and served a term on the State Extension Advisory Council. He and his wife, Shirley, were honored as part of the Master Farmer/Master Farm Homemaker class in 2006.
Before being elected KFB president in 2014, Felts served as vice president (2011–2014) and as a member of the board since 2001.
Felts credits his involvement with 4-H, his years at K-State, and the KARL program for his passion for civic involvement and much of his career success.
Outstanding Young Alumnus
Mike Seyfert maintains his ties to his family farm, Kansas, and Kansas State University from Washington, D.C., where he works as director of government affairs for FMC Corporation.
Seyfert credited his father, Ron (B.S. '68), who was a K-State Research and Extension agent for 40 years, with providing a strong background for his success.
After graduating summa cum laude from K-State in 1996 with a bachelor's degree in agricultural economics, Mike Seyfert earned a master's of public administration from The George Washington University.
From 1997 to 2002, Seyfert worked as legislative assistant to Sen. Pat Roberts. He then became deputy legislative director/homeland security advisor for Sen. Roberts.
In 2005, he accepted the position of legislative director for the senator. In this capacity, Seyfert served as the senior legislative aide for several Senate committees including finance and agriculture, nutrition, and forestry. He managed a legislative staff of 13 and was directly involved in policy development, legislative recommendations and negotiations related to issues including agriculture, aviation, defense, energy, health care, homeland security, taxation, and trade.
He also coordinated the senator's efforts among the Kansas Congressional Delegation, Kansas Governor, Kansas Bioscience Authority, and Kansas State University to secure awarding the $600 million National Bio and Agro-Defense Facility (NBAF) to K-State.
"When I came to K-State as a student, I never dreamed I would get to do all the things I have done," Seyfert said. He listed helping rebuild Greensburg and involvement with NBAF, the farm bill, and crop insurance bill as highlights.
In 2011, he accepted the position of Republican staff director for the U.S. Senate Committee on Agriculture, Nutrition, and Forestry. He founded The Seyfert Group, LLC in March 2013 to provide strategic guidance on federal affairs issues.
Seyfert currently serves as director of government affairs for FMC Corporation, a diversified chemical company serving agricultural, industrial, environmental, and consumer markets.
David J. Mugler Outstanding Teaching Award
Jeffery R. Williams is an exceptional faculty member who combines outstanding teaching and student mentoring at the graduate and undergraduate level with an active research program.
Williams joined the Department of Agricultural Economics faculty in 1980. He currently advises 30 to 35 undergraduate students and insists that his advisees come to their appointments prepared and take ownership of their program of study. Graduating seniors often mention him as one of the department's best advisors. He also mentors graduate students and has served as major or co-major professor for 25 graduate students.
Professor Williams meticulously works with students to help them learn and understand the material. His caring attitude is evident to students and faculty alike. He often goes above and beyond to help a student who may not be aware of his or her potential. Williams does all he can to motivate and encourage and occasionally admonish students to help them perform better in his courses.
Colleagues describe Williams as one of the best teachers on campus because he devotes enormous effort to developing materials and sits in on other instructor's classes to learn new techniques. He also shares materials with other faculty to help them become better teachers.
Williams truly exemplifies Associate Dean Dave Mugler's motto, "They don't care how much you know until they know how much you care."
Pictured: Jeff Williams (l-r), David J. Mugler Outstanding Teacher; Mike Seyfert, Outstanding Young Alumnus, and Rich Felts; Distinguished Alumnus, were honored by the college with a reception and dinner on April 29.