Grain Science and Industry Department Recognizes Alumni and Service
Three individuals and the IGP Institute staff were recognized at the ninth annual Department of Grain Science and Industry awards banquet on April 20, 2017. For more information on these and student award winners, check out the event program.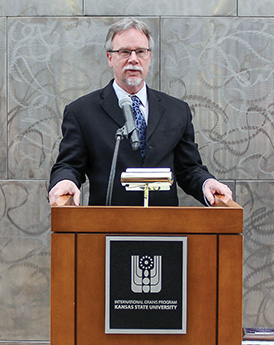 Chuck House does communications, marketing, and professional-development programming for the Grain Elevator and Processing Society (GEAPS), where he helped initiate and build a distance-education program that partners with K-State. It now offers 26 courses focusing on grain-handling and grain-processing topics.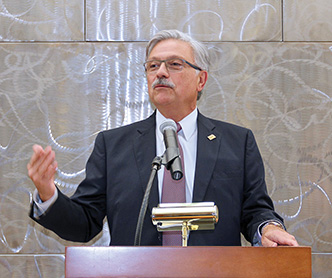 Rolando Flores (Ph.D. '89, grain science), dean and chief administrative officer of the College of Agricultural, Consumer and Environmental Sciences at New Mexico State University, received an alumni award. He previously was professor and head of the Department of Food Science and Technology and director of The Food Processing Center, University of Nebraska–Lincoln. His 13-year career at K-State included various projects in the departments of Grain Science and Industry and Biological and Agricultural Engineering.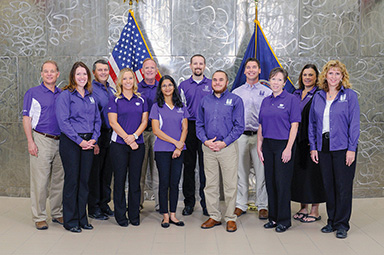 In 2016, the IGP Institute served 2,001 participants from 67 different countries in 80 courses. These efforts would not be possible without the teamwork and dedication of the institute staff. Left to right: Jay O'Neil, Brandi Miller, Pat Hackenberg, Kelly Hannigan, Department Head Gordon Smith, Naaz Yasmin, Jason Watt, Carlos Campabadal, Shawn Thiele, Trina Adams, Lisa Long, and Lisa Moser.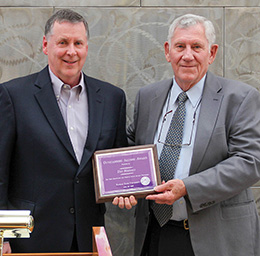 Donald P. Morrison Jr., left, (B.S. '81 feed science and management) is an international feed ingredient grain trader for The Rice Company (TRC). He has originated more than 50 million tons of animal feed ingredients for export, helping to improve the U.S. balance of trade by over $8 billion. While working in New York, he started the K-State NYC Alumni Chapter. Keith Behnke, professor emeritus, presented the alumni award.