Students benefit from alumni experience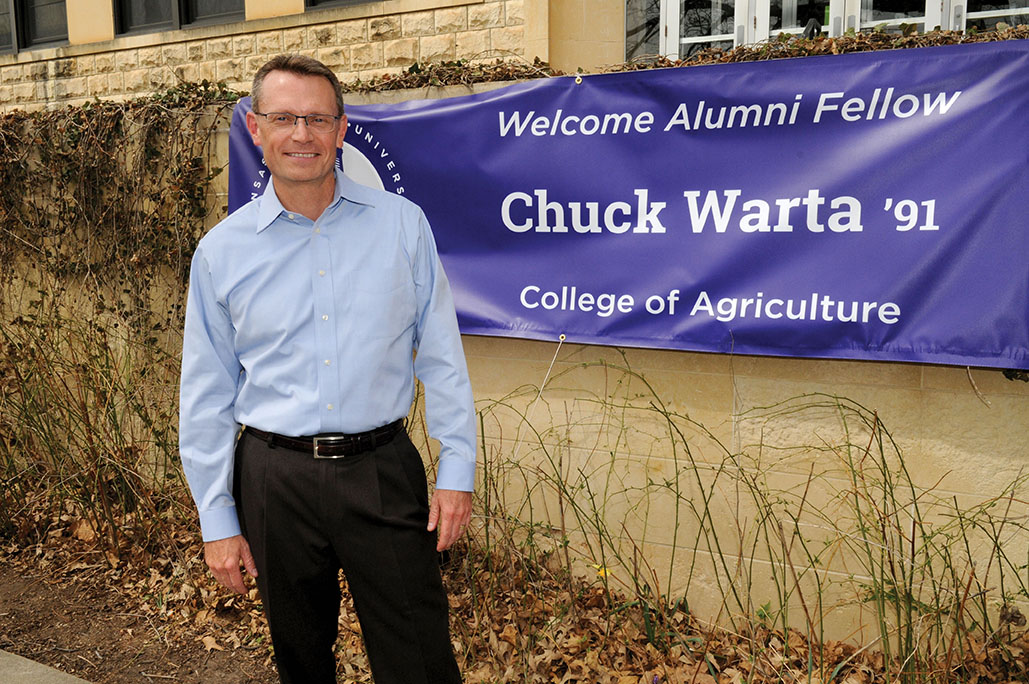 Since 1983, Kansas State University has been inviting alumni with distinguished careers to the Manhattan campus. Each college, the Graduate School, and Global Campus select successful alumni to meet with students and faculty and share their expertise. Two College of Agriculture graduates were chosen Alumni Fellows.
Chuck Warta, president of Cargill Premix and Nutrition, was chosen as the College of Agriculture Alumni Fellow and Rolando Flores, dean and chief administrative officer for the College of Agricultural, Consumer and Environmental Sciences at New Mexico State University, represented the Graduate School.
Warta, a native of Ellsworth, earned an agricultural economics degree in 1991 and accepted a job with Cargill. He spent 22 years in various roles across Cargill Animal Nutrition with responsibilities for leading business growth in many key markets such as the U.S., China, Korea, Indonesia, and the Philippines.
Before being named president of Cargill Premix and Nutrition, he was the business unit leader of Cargill Meats Thailand, an integrated poultry and food company with production, processing and cooking capabilities, which exports products to more than 27 countries.
Warta said, "People remind me that I made this statement early in my career, 'Move me anywhere you want, as many times as you want, wherever in the world you want – as long I'm getting growth and experience.' Cargill took me up on that challenge, and we've been on quite a journey."
During his three-day campus visit, Warta met with college administrators and spoke to students in 10 classes. With students, he shared his career path, the importance of technology and being open to change, and future challenges facing the food industry. He also encouraged students to "be learners" and "ask questions to overcome natural cultural biases."
"I think having an alumni fellow like Chuck Warta come to speak in our classes is extremely valuable," said Sara Gammon, student in agricultural economics and global food systems leadership from Drexel, Missouri. "We are able to listen to and ask questions of someone who has graduated from K-State and doing incredible work in his field. He's someone who relates to us and holds a position we could see ourselves having in the future. I believe that motivates us to pursue bigger goals and excites us about being Wildcats."
Warta remains actively invested in his family's farming operations in Kansas. He and his wife, Denise, endowed a scholarship at K-State for students in the College of Agriculture.
Graduate School Fellow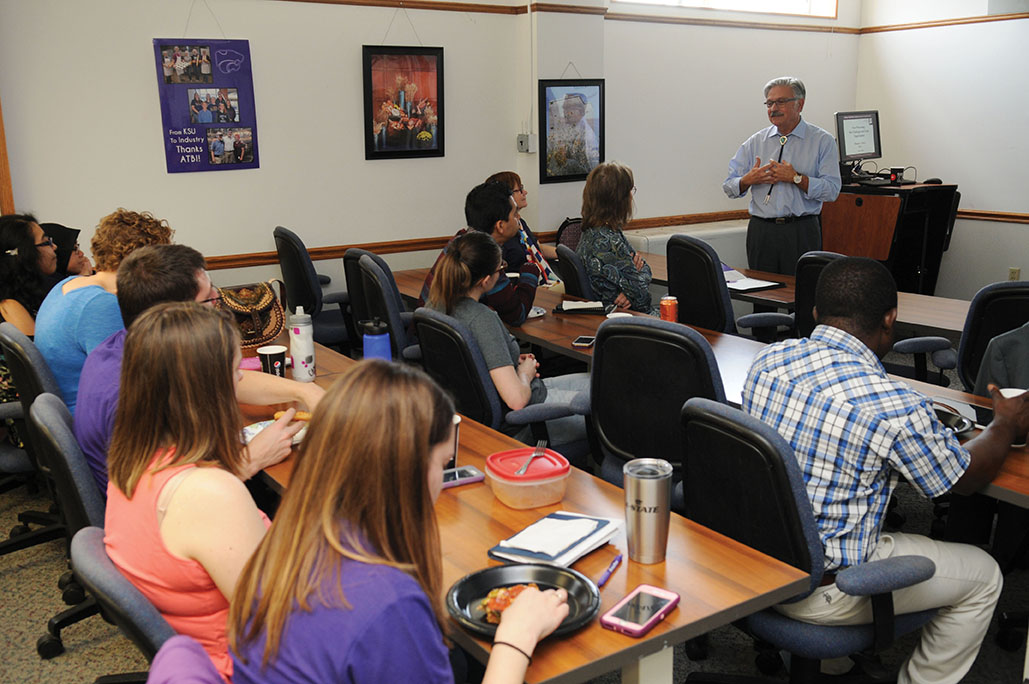 Flores spent about 12 years in Manhattan, where he earned a doctorate in grain science with specialization in international trade in 1989. In addition to his time in the Department of Grain Science and Industry, he also worked in the Department of Biological and Agricultural Engineering. While in Manhattan for the Alumni Fellows recognition, he met with faculty and students in the two departments and the Graduate School.
During a lunchtime seminar, he acknowledged his K-State mentors – professors Do Sup Chung '60, '66, Richard Phillips, Elieser Posner '69, Charles Deyoe '55, and Paul Seib – and encouraged students to learn and distill information from faculty.
Flores praised the effectiveness of U.S. agriculture production and credited the efficiency of the land-grant university system of teaching, research, and extension.
"Agriculture in the U.S. is the best in the world, but we need more technology to meet the needs of a global population," Flores said. "We have a very efficient system, but it is not well understood. Be relentless and proactive. Find new ways to get information to the people. We need to make stakeholders see the value in what we are doing."
Before his position at New Mexico State University, Flores was professor and head of the Department of Food Science and Technology and director of The Food Processing Center at the University of Nebraska–Lincoln. He also served on the faculty at Iowa State University.
He is a member of AACC International (formerly the American Association of Cereal Chemists), the Institute of Food Technologists, and the Agriculture Future of America Board of Directors in Kansas City, Missouri.
"Throughout Dr. Flores' career, he has made significant contributions to advancing his profession through teaching, research, and academic administration," said Carol Shanklin, dean of the Graduate School. "He has influenced the lives and careers of a significant number of students, faculty, and peers through his mentorship and support. Several organizations and industry partners have recognized his significant contributions. In 2017, he received the Outstanding Alumni Award from K-State's Department of Grain Science and in 2014 was recognized as a Robert B. Daugherty Water for Food Institute Fellow."
The K-State Alumni Fellows Program is sponsored by the Deans Council, the President's Office, and the Alumni Association.