Alumni Board Acknowledges Excellence
A fourth-generation farmer, a nationally recognized agricultural economics professor, and a food safety and security expert were honored by the Agricultural Alumni Board at a reception at the K-State Alumni Center on April 28. The annual awards recognize two alumni and a College of Agriculture teacher for their commitment to the college, university, and their communities.
Distinguished Alumnus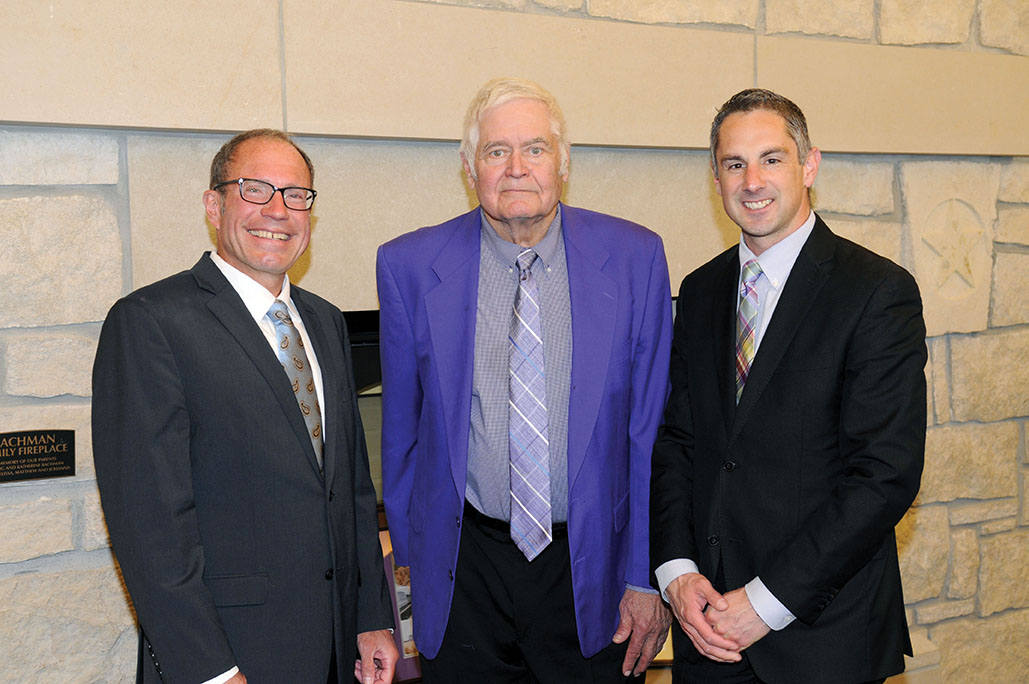 As Charles Munson accepted the 2018 Distinguished Alumnus Award, he proudly introduced his extended family and their various ties to K-State. "It's all about family," he said.
Munson earned a bachelor's degree in agricultural economics in 1965 and is the owner-operator of Munson Angus Farms, LLC; Munson Premium Angus Beef, LLC; and Munson Angus Farms Black Horse Hitch, LLC.
In January 2014, the family bought a closed restaurant building in Junction City and renovated it into Munson's Prime, which features Munson Premium Angus Beef and other locally grown products.
In addition to his business ventures, Munson contributes to his community and various organizations.
He is a trustee for the K-State Foundation, Landon Lecture Patron, scholarship donor to the agricultural economics department, and President's Club Member. He served as director of the K-State Alumni Association, chairman of the Kansas State Extension Council Advisory Committee, and the first president and founder of Kansas Citizens for Extension Education. He is also involved with numerous boards and councils throughout the state including the Geary County Extension Council, Geary County Conservation District, and the Kansas Livestock Association.
The Department of Agricultural Economics recognized him as its distinguished alumnus in 2009. Munson Angus Farm, located in the Flint Hills region of the Tallgrass Prairie, won the 2013 American Royal Steak Contest and earned one of six regional Environmental Stewardship Program awards in 2017.
The family has a long history of support for 4-H activities and the Kansas 4-H Foundation, including supplying horses and carriages and homemade ice cream for Friends of 4-H.
David J. Mugler Outstanding Teacher
Professor Andrew Barkley has taught 3,900 undergraduate and graduate students, mentors students and faculty, and maintains an active research program. He earned the David J. Mugler Outstanding Teaching Award.
At the award reception, Barkley shared his memories of being hired by Associate Dean Dave Mugler. "During the interview, Mugler said, 'We have outstanding students. I love working with them, and you will too.' Mugler was a champion of students, and I am privileged to work at K-State where students are thought of so highly."
Many graduating seniors name Barkley as one of the professors who most inspired them during their years at K-State, both in his classes and as a trusted academic advisor.
On the national level, he has been recognized for teaching excellence by the Agricultural and Applied Economics and the Western Agricultural Economics associations, North American Colleges and Teachers of Agriculture, USDA, and the Council for the Advancement and Support of Education. K-State granted him the Iman Outstanding Faculty Award for Teaching and selected him as a Coffman Chair for University Distinguished Teaching Scholars.
His research includes the study of effective teaching and learning; labor issues in agriculture and broader questions of agricultural policy; and the economics of wheat improvement programs, international wheat trade, and the impact of climate on wheat production.
Barkley co-authored two books adopted in agricultural economics courses in the United States and throughout the world. He and his wife, Mary Ellen, have led four study-abroad courses to Brazil, South Africa, China, and India.
Outstanding Young Alumnus
Justin Kastner '98 received the 2018 Outstanding Young Alumnus Award. He credited the strong mentoring tradition in the college and thanked his mentors, including his father Curtis, for sharing decades of experience, advice, and counsel. As an associate professor in the Department of Diagnostic Medicine/Pathobiology, he teaches graduate and undergraduate courses on the Manhattan and Olathe campuses and through Global Campus.
While a K-State student pursuing a bachelor's degree in food science and industry, Kastner served as a city commissioner and was named Truman, Fulbright, and Rotary scholars.
After completing a master's degree in food safety and control at the London South Bank University, United Kingdom, and a doctorate in food science at the University of Guelph, Canada, he returned to the K-State Department of Animal Sciences and Industry. He moved to the College of Veterinary Medicine in 2006. From 2013 to 2016, he served as the university honors program director.
Using his experience working with international trade policy at the World Trade Organization in Geneva, Switzerland, he co-founded the Frontier Program. It allows students to visit trade ports, private firms, and other groups involved with international trade.
He has served as principal investigator for $2 million in federal grants related to science, technology, engineering and math (STEM), trade policy, trade facilitation, or capacity building. In 2015–16, he led a State of Kansas-funded project providing experiential learning for students exploring global food system careers. Kastner also is president of K-State's chapter of Phi Kappa Phi and an ordained Anglican minister.
Jacob Lauer '07, who nominated Kastner, said "He guided me through my first research project with patience and confidence, allowing me to receive my first peer-reviewed publication. He imparted to me research skills that I continue to use this day."