Alumni Fellow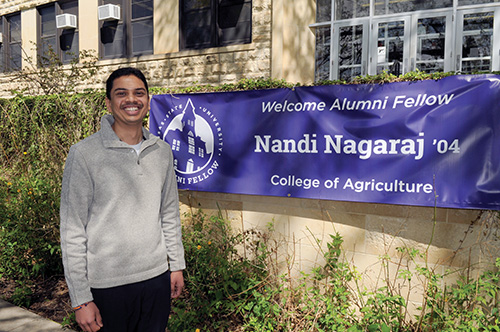 It seems like a huge leap to go from studying traits of germplasm in crops to being a human resources manager, but Nandi Nagaraj has successfully made the transition.
Nagaraj, who earned his doctorate in entomology from Kansas State University in 2004, was chosen as the 2017 College of Agriculture Alumni Fellow. He was on campus in late April for recognition ceremonies and to visit with students and faculty.
After completing his doctorate, Nagaraj joined Dow AgroSciences, where he led the identification and development of traits and germplasm in cotton and corn in India. He moved to Indiana in 2010 to assume leadership of characterization of early stage abiotic and biotic transgenic traits in corn. In 2012, he became group leader supporting generation of critical data for trait pipeline projects along with improvements to the trait screening and integration processes.
His career evolved in 2014, when Nagaraj was named human resources manager for research and development. He assumed the role of human resources business partner in 2015, where he works closely with Dow AgroSciences' global leaders to set and implement employee talent and performance development strategies.
During his K-State visit, Nagaraj spoke to a broad range of classes — communications, genetics, and entomology.
In the communications class, Nagaraj said he liked working for Dow because the company truly invests in people's careers. Dow offers all employees a growth plan that features 70 percent on-the-job learning, 20 percent in the classroom, and 10 percent through mentorship.
"With the first two, you listen and learn," Nagaraj explained. "With mentorships, you have a support system where you learn from others how to handle situations. The company does not let you get pigeon-holed."
Over a pizza lunch with plant pathology and entomology graduate students, Nagaraj discussed what to look for when applying for industry jobs as well as things to do and not do during applications and interviews. He also shared his experiences working in industry, how to stay productive, the academic and industry jobs market, and what to include in curriculum vitaes.
"He was a wonderful person to talk to," said Elina Adhikari, president of the plant pathology graduate student group. "He gave us really good advice on being a good candidate in the job market. Since that meeting, I am motivated to start working on my résumé for jobs that I want in the future."
John Ruberson, entomology department head, added "Nandi is committed to participating in K-State student development. He worked with Dow to provide cash awards for winners in the K-State Graduate Research, Arts, and Discovery (GRAD) Forum."