Why Study Abroad?
We live in a global society. Students need intercultural skills to be fully prepared to live and work in the modern world. K-State has an impressive number of international students and faculty, but unfortunately, many U.S. students don't spend much time with people from other cultures. The best way to gain these important intercultural skills is to have an experience in another country. For many students, going abroad as a part of their undergraduate career might be the only chance they have to spend a prolonged amount of time in another country. Hopefully they return with a sense of global citizenship, and a deeper desire to interact with people from different culture.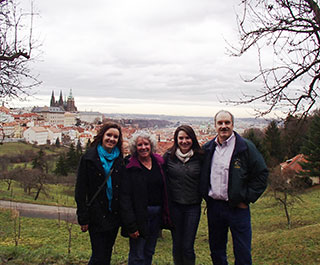 An international experience like education abroad can be life changing. Returned students tell us that they feel more confident and independent, that they are more mature, and that they have a deeper understanding of their identity and their future goals. They learn important interpersonal skills, languages, problem-solving skills, and travel skills. Students who learn to understand another culture can see things from different perspectives. They also learn more about their own culture!
Five Reasons to Study Abroad
Learn Who You Are
You may already think you know who you are. But if you've never stepped outside your comfort zone--whether that be Kansas, the United States, the English-speaking world, or any other culture to which you belong--your self-perception might be very limited. The only way to know your potential, passions, and shortcomings is to look at yourself from the outside. Reconnect with the heritage of your immigrant ancestors. Taste cuisines that simply are not available in Kansas. Test yourself against the thrilling rigors of exploration. Meet folks who speak, worship, and live in ways that you can't imagine. You'll know a lot more about yourself--and you'll never be the same!
Strengthen Your Major or Minor
When you enrolled at K-State, you knew that you had access to a world of academic and professional options. Maybe you still don't know if your major is right for you, or perhaps you're considering a secondary major or minor. Education abroad can help you finalize your career goals or confirm that the major you have chosen is right for you. Take classes abroad that accelerate your path to graduation--or even position yourself to graduate early. In fact, American undergraduates who study abroad tend to graduate on time more than students who do not go abroad.* Gain an international perspective on your chosen major--like German engineering methods or Costa Rican environmental policies--that deepen your understanding beyond the boundaries of K-State.
Build Language Skills in an Immersive Environment
If you've ever taken a class in another language, you know how difficult it is at first to remember even the most basic vocabulary and phrases. Perhaps you think you're not talented enough to master Spanish, confident enough to try Arabic, or brave enough to even consider learning Japanese. The only sure-fire method to work toward fluency in another language is not found in a book, podcast, or DVD--it's found abroad! Immerse yourself in another culture for a period of time, soaking up its food, literature, ideas, sights, and sounds, and you will discover that you're talented, confident, and brave enough to learn any language. Whether you want to pick up a double major or a minor, converse with your international friends in their native language, or set yourself apart on the job market, study abroad can help you say ¡Adios! to your language-learning fears.
Distinguish Yourself the Job Market
If you're a prospective K-State undergraduate or a first-year student, applying for jobs might not be your top priority right now. If you're a senior, though, you know all-too-well how close it is! When you participate in an education abroad program, you will be more competitive when you enter the job market than if you had just studied in Kansas. International experience is a good indicator that a perspective employee has intercultural communication skills and respect for other cultures - traits that more and more employers are prioritizing. Give yourself every opportunity to enhance your resume in our competitive world--study abroad!
Gain Academic and Professional Experience
If you want to go to graduate or professional school after you leave K-State, you've probably thought about the difficulty of getting into a good program. Much like applying for jobs, international experience will help you stand out to an admissions board. Gain admission to a great medical school by volunteering at a health clinic in Kenya. Pass the LSAT with flying colors after you learn about common law in London. Get inspired to research a senior honors or Master's thesis after exploring China. You don't have to wait to know your future--live it now when you study abroad!
*Lynn Anderson, ed. Internationalizing Undergraduate Education: Integrating Study Abroad into the Curriculum. Minneapolis: University of Minnesota, 2005.