Doris Galvan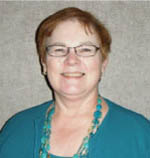 Name: Doris Galvan
Office: Industrial and Manufacturing Systems Engineering
Address: 2037 Durland Hall
Phone: 785-532-5606
E-Mail: galvan@ksu.edu
Senate Position: Co-Chair, Recognition Ceremony Committee
Short Biography:
I was born in Bad Tolz, Germany. Since my father was in the military I've lived in France and Germany and several states. We most often lived in Kansas, and that suited us since we have family in Omaha, Nebraska. I met my husband (another military man) here and traveled to Germany and Colorado with him. We have three children and 8 grandchildren.
Brief Work History:
While I was moving around a lot, I managed to work for AAFES in Munich, Germany as a secretary. I worked on Fort Riley as a customer service rep in the Post Exchange, and then I worked as a secretary for Dept. of Facilities, but had to quit when I was carrying twins. In Germany I ran the post Day Care Center. My career on campus started at the Student Union Bookstore, working in the Customer Service Department, Textbook Dept & Business Office until I got a position with the College of Engineering in the Recruitment Office. After 5 years I went to work with the Admissions Reps in Anderson Hall. My heart was in Engineering though so I came back here. I have been on campus 20 years.
Personal Interests:
I enjoy doing whatever my grandchildren are doing and relaxing with my husband. When I am alone I like to read, embroider, listen to music and work on picture albums for the kids.
Additional Comments
I'm honored to represent the classified staff of the College of Engineering and look forward to serving in the year ahead.