Janet K. Finney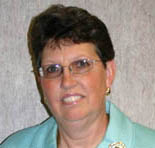 Office: Department of Human Nutrition
Address: 212 Justin Hall
Phone: 785-532-5509
E-Mail: janetkay@ksu.edu
SenatePosition: Classified Senator for College of Human Ecology
Short Biography:
I grew up in Onaga, KS and moved to Manhattan when I was a junior in high school. I have lived here or in Kansas ever since, except for the time my husband was in the navy. I have been married for 39 years to my husband Leonard who is employed at Kansas State in Computing and Telecommunications Services. We have 2 sons that have graduated from Kansas State.
Brief Work History:
I have worked in the Department of Human Nutrition (formerly Foods and Nutrition) for 29 years.
Personal Interests:
I have always enjoyed reading and needlework, but the last several years my passion has been mostly for cross stitch and quilting. Summer usually finds me working in the garden and flower beds or on the lake in our fishing boat with my husband Leonard.