Jackie Anders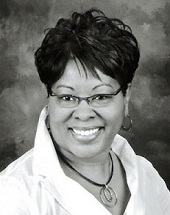 Office: Office of Student Financial Assistance
Address: 121 Fairchild
Phone: 785-532-4679
E-Mail: janders1119@ksu.edu
Senate Position: Senator
Short Biography:
I moved to Salina, KS in 1969 from Jackson, MS and in 2013, I moved to Manhattan. I lived most of my life in Salina, with the exception of the three years that I lived in Bindlach, Germany. I have two amazing sons and daughter in-laws; Donnie & Samantha (Columbus, OH), Aaron & Jaylynn (Salina, KS) and two grandchildren; Leah and Liam. Of course, I think they are the cutest grandkids, ever! Lol. I have 8 great nieces and nephews. I have one sister; Pat (Salina) and my boys call her "Firecracker"! You never know what she is going to say; as she "Pops" off with some interesting sayings and words! My boys and I have traveled quite a bit to include Europe and I traveled to Africa a couple of years, ago. I continue to travel as much as possible. I catered off and on for about 20 years and had my own catering business for four years. The name of our business was Charly Shortz Catering and we specialized in Soul Food. My cousin and I named the business after our mothers. My mother's name was Charles and we called her mother, Aunt Shorty. Family is very important to me as well as my friends. I love to have everyone over for and share my love of cooking and entertaining. I'm always ready for family and friends gatherings.
Brief Work History:
I came to work for K-State in July of 2012 after leaving the private sector. Human resources is my background and I am working on completing my masters from Fort Hays, with an emphasis in HR. My first position was a Senior Administrative Assistant at the Veterinary Health Center. In April 2013, I took a position with the Statistics department as the Administrative Specialist and it was a great department to work for. In December 2013, I took a position with the Office of Student Financial Assistance as their Administrative Officer. I enjoy the work and it is a really good department, too.
Personal Interests:
Traveling, Cooking, Reading, Community Involvement
Additional Comments:
I enjoy working at K-State and my plan is to retire from K-State.