Manhattan Ultimate Summer League
Manhattan, Kansas
MUSL 2009
The MUSL 2009 season ended July 30th, with Blueberry Slam being crowned champion. The schedule shows the results of all the regular season and post-season tournament games. The standings page shows the final regular season results and the final rankings after the post-season tournament.
The theme for 2009 was 'sports drinks'.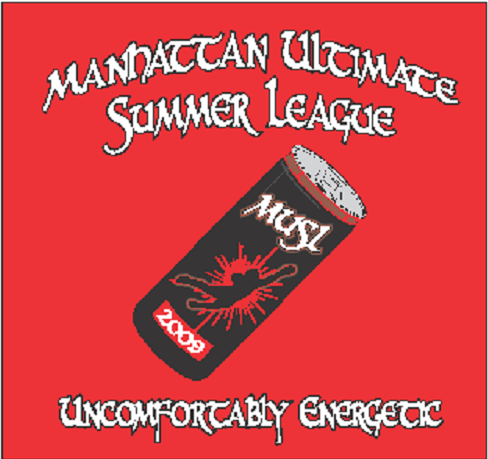 (view a draft of the design for the league's t-shirts)

---
Practices
Get your game in order by attending open Pick-up at the following times and places:
6-8pm Tues night at the President's Field
6-8 pm Sun nights at the Rec Fields

Thanks. I'm looking forward to another great summer!
Shawn Kokenge
shawnkokenge@yahoo.com


---
Sponsors
Our sponsors keep MUSL affordable. Suport us by supporting them. Rock-A-Belly Deli and Bluestem Bistro will be handing out coupons at the games randomly throughout the season.
ROCK-A-BELLY DELI-- sandwiches and brews, Aggieville 539-8033

BLUESTEM BISTRO-- cafe and bakery, Aggieville 587-8888

WALSON INK--

screen printing

, 539-1820