2010 - Seventh Annual Teaching Retreat
"Meeting Students Where They Are"
Invitation
Call for Proposals / Proposal Template
Program Schedule
Retreat Video
Keynote Speech
Improv Drama Troup
Concurrent Session: Abstractions & Presentations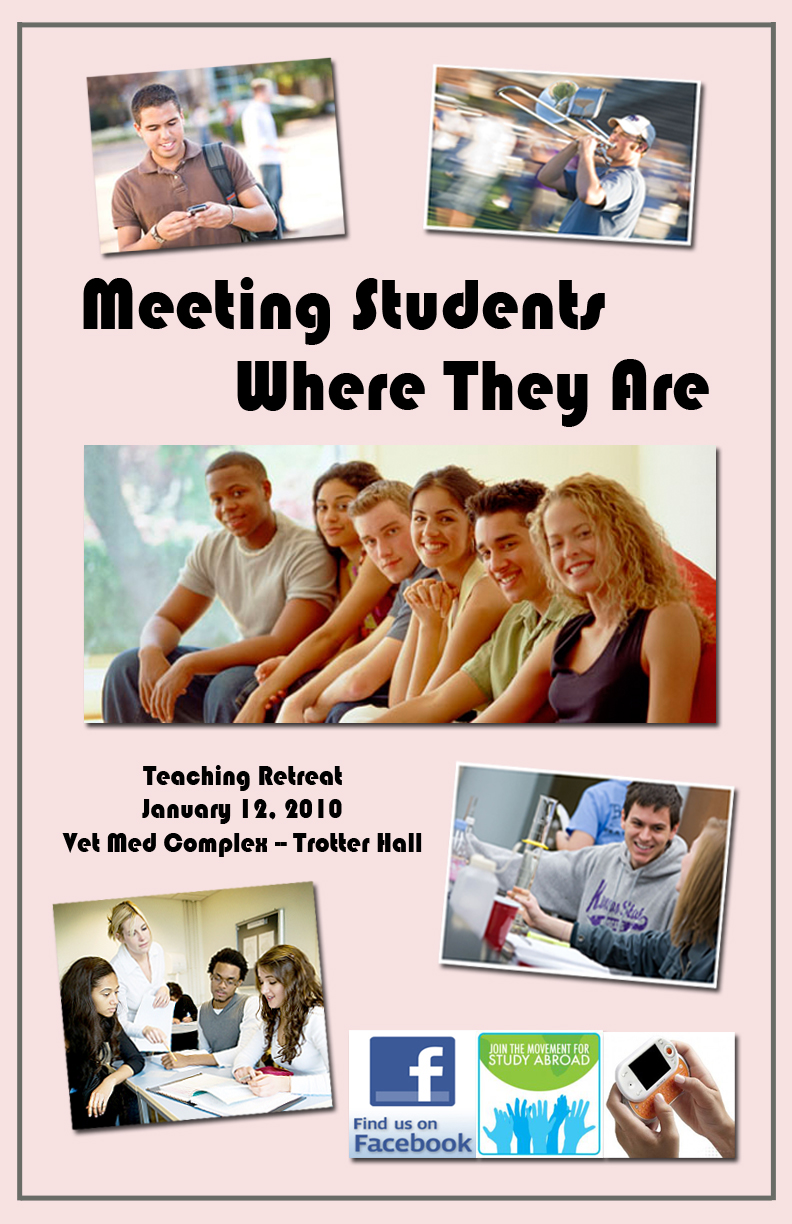 Retreat Invitation
You are cordially invited ~ FETE Retreat 2010 ~
"Meeting Students Where They Are"
8:30 a.m. - 2:00 p.m., January 12, 2010
Vet Med Complex - Trotter Hall
Visit During Coffee & Registration - Participate In a Stimulating Program - Enjoy Delicious Lunch and Dessert - Experience a Never-Seen-Before Dramatic Ending. Come!
Call for Proposals + Session Proposal Template
"Meeting Students Where They Are" Tuesday, January 12, 2010
Proposals due on or before: December 5, 2009
Presenters will be notified by December 15
Concurrent sessions will be scheduled for 40 minutes.
Selection criteria:
applicability to other disciplines
potential interest for a diverse audience
interactive presentation
new ideas/best practices/clever tips/problems for discussion
General topics that might fit the theme of meeting students where they are:
21st Century Learning
Planning for Millenials
Teaching for a future we can't see
Authetic learning
Teaching and Learning to Think
Engaging technologies to engage students
F2F OMG LOL
Keeping up with Generation Y
www - whatever, whenever, wherever
Are You a Helicopter Teacher?
The Age of Entitlement
Social Networks - the new social scene
Reading? Writing? 'Rithmetic?
Are smart phones smart for class?
FB: Friend accepted!
Diversity = The Norm
Providing structure for Y learners
Tweet, Flickr, and Go!
Concurrent Session Proposal Template
SESSION TITLE:
PRESENTER(S):
NAME/PHONE/EMAIL:
EQUIPMENT NEEDS:
SESSION ABSTRACT (~100 words):
Please submit the information requested above via e-mail or campus mail --on or before December 5 to the CATL office.
Program Schedule
8:30 - 9:00 Registration & Coffee, Trotter Entry
9:00 - 9:15 Welcome: Dean Ralph Richardson, Trotter 201
9:15 - 9:45 Today's Students: Dr. Emily Lehning, Trotter 201
10:00 - 10:40 Concurrent Sessions #1, See Abstracts
10:50 - 11:30 Concurrent Sessions #2, See Abstracts
11:40 - 12:20 Concurrent Sessions #3, See Abstracts
12:30 - 1:15 Buffet Lunch, Trotter 2-Cafeteria
1:15 - 1:30 Data & Dessert, Trotter 407
1:30 - 2:00 Improv Drama Troupe, Trotter 407
2:00 Tour: Veterinary Medicine Complex, TBA
Video Clip: Seventh Annual Teaching Retreat. 1/12/10
Keynote Speech:
Dr. Emily Lehning, Vice President of Student Life at Kansas State University
(Power Point Slides)
Improv Drama Troup
K-State Video Player
Adobe Flash player may not be installed on your system. Install the flash player using the link below.
If this message persists, contact the IT Help Desk at 785-532-7722 or helpdesk@k-state.edu