Tori Thomas
Hometown: Lenexa, Kansas
Where I studied abroad: Havana, Cuba
Major: BioEnvironmental Engineering
Minor: Spanish
Favorite Foreign Food: Fried ripe plantains
Favorite city/site visited while abroad: We went to Trinidad one weekend and hiked through the jungle to a waterfall where we went cliff jumping, an absolutely amazing experience.
My next trip is going to be to: Oregon and California to visit some of the friends I met while studying abroad in Cuba!
Advice for future study abroad students: Being in a city for longer periods of time gives you the unique opportunity to really get to know a city and its culture, so skip the touristy spots, get to know the locals, and see where they take you!
I fell in love with Cuba my first night. It would be crazy to fall in love so quickly in the United States, but Cuba is a country of love and romance. After a classic Cuban meal of rice and beans, sweet fried plantains, salad, pork, and potatoes we ran down to catch the sunset on the Malecón, the 8 kilometer sea wall that stretches from Vedado to Old Havana. They call the Malecón 'The Sofa of Cuba' because it is where you can find families, friends, and couples sitting at all hours of the day enjoying the views and each other's company. As we walked, talked, and felt the sea spray from the waves crashing against the Malecón, I knew I was in for an amazing seven weeks. Starting that night, and every day after, shouts of "I loooooove you," "Beautiful," and "Where are you from?" followed us everywhere we went. Piropos are a part of the Cuban culture and can even be a little charming, comparable to English pick-up line. As my professor jokingly put it, the day a Cuban woman walks the streets and doesn't receive a single compliment is the day she heads to the plastic surgeon. Cubans also show their love to their fellow compatriots through 'la bottela.' Private car ownership is rare in Cuba, so many people hitchhike, or 'take the bottle," to work. There is also a collective taxi system in Cuba which only costs $0.50 a ride, but only runs along the main streets—not to your specific location. This taxi system not only allowed for us to get a better handle of Havana's geography, but also for lots of interesting conversations with the locals. The Cubans are all very well educated and interested in world events, so I was always being asked if I was for Hillary or Trump and if I knew about Obama visiting. Just as the Cubans aren't afraid of giving a stranger a ride to work, they also aren't afraid of salsa dancing with an obviously uncoordinated outsider. After a couple salsa lessons, all I needed was a partner that counted "uno, dos, tres,*pausa* cinco, seis, siete," to have those Dirty Dancing Havana Nights moves.
However, salsa wasn't the only thing I learned in Cuba. I learned that Cubans love ice cream and hate rain, so the best time to visit Coppelia, the block sized compound where you can get a big bowl of ice cream for $0.25, was during the daily thunderstorms. When I visited the Museum of the Revolution I learned that Cubans hate imperialism and Fulgencio Batista, and are willing to fight for what they believe in. I hiked through the Cuban jungle to go cliff jumping over a waterfall where I learned that Cubans do not need technology to enjoy themselves, maybe only a bottle of rum and a good reggaeton. I enjoyed the scenic views of Cuban countryside only to learn the tower I'd climbed to do so was built so that the slaves could be monitored from above at all times. I learned about the colonization of Cuba and their following fight for independence from Spain and the fight to free the slaves. While the Spanish culture still has left a lasting imprint on Cuba, it is only one of the many influences. Santería, a popular religion in Cuba, is a mix of Yoruba religion brought over by the slaves and Catholicism, and a great example of the mixing of cultures that is Cuba. I learned more about the syncretism of religion when we visited the Regla church and Callejon de Hamel, a street full of AfroCubano art and live music. After snorkeling in the Bay of Pigs, I learned the Cuban side of the story at the museum next to the beach. I learned how to roll a cigar after riding horseback through the mountains and tobacco fields of Viñales. I also learned so much Spanish along the way. Cubans are some of the friendliest people you'll ever meet, and are always easy to strike up a conversation with. My Spanish improved immensely just by how often I was interacting and speaking Spanish with Cubans on a day to day basis.
Above all I learned about the importance of people. In just seven short weeks I made lifelong friendships with people who live around the globe, and now just want to travel more since I can visit with them in their cities. There's something about being abroad and all of the crazy experiences you go through together that bonds people like few other things can, so if I have any advice it's this: go. Study abroad in your dream country, make lifelong friends and amazing memories, and learn more than you ever could in a classroom!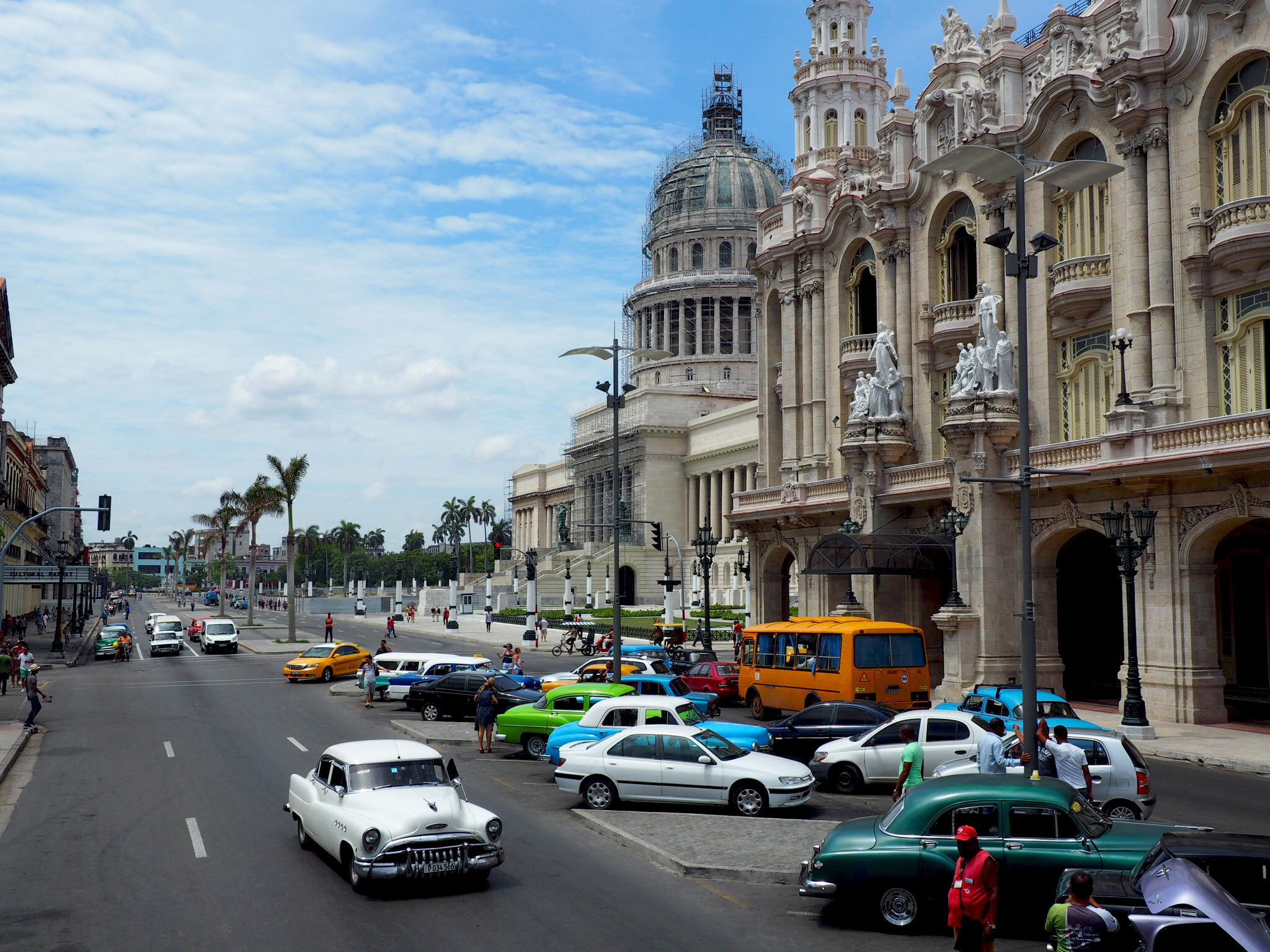 The Capitolio and classic Cuban cars.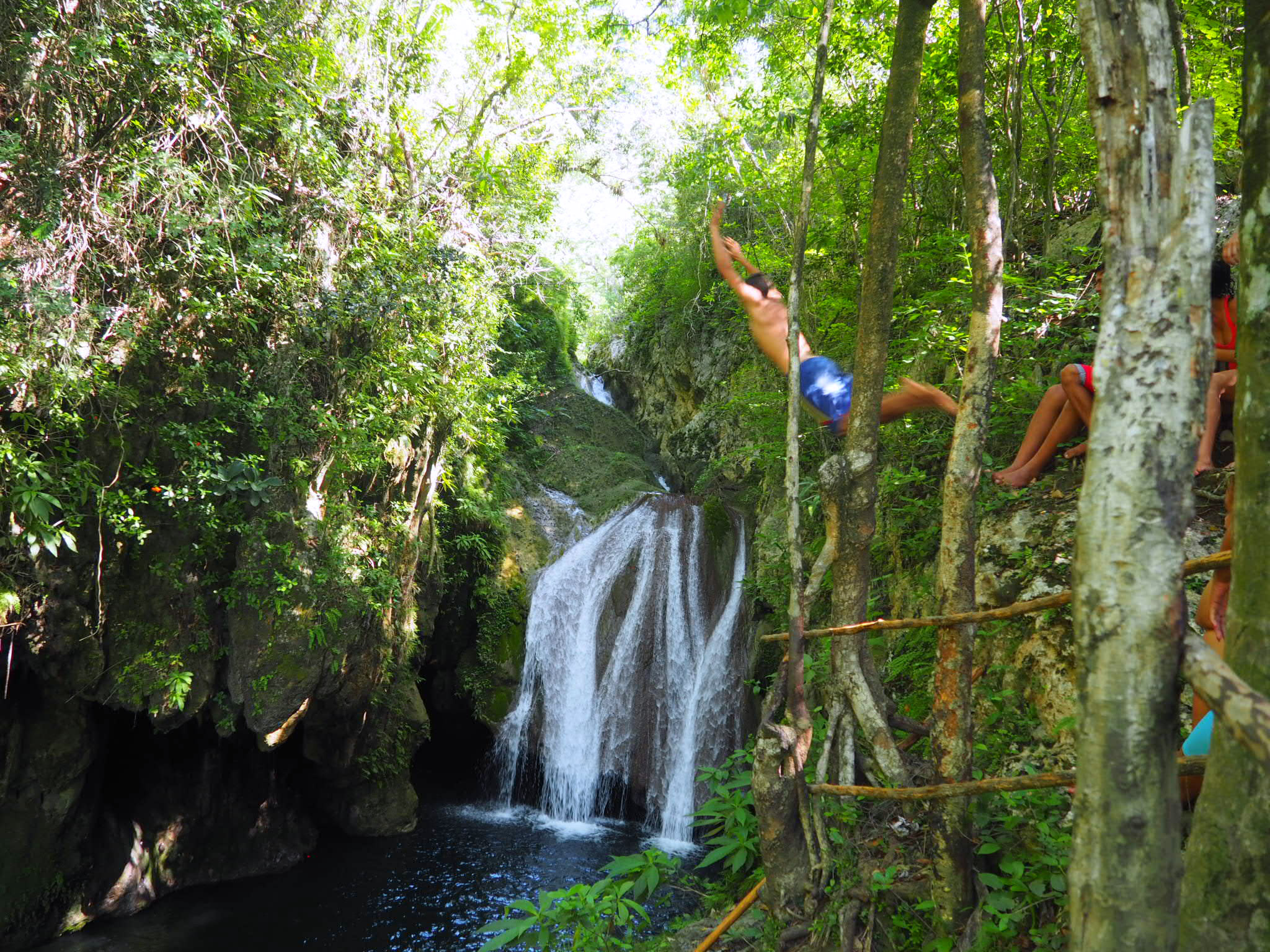 Cliff diving in the Cuban jungle outside of Trinidad.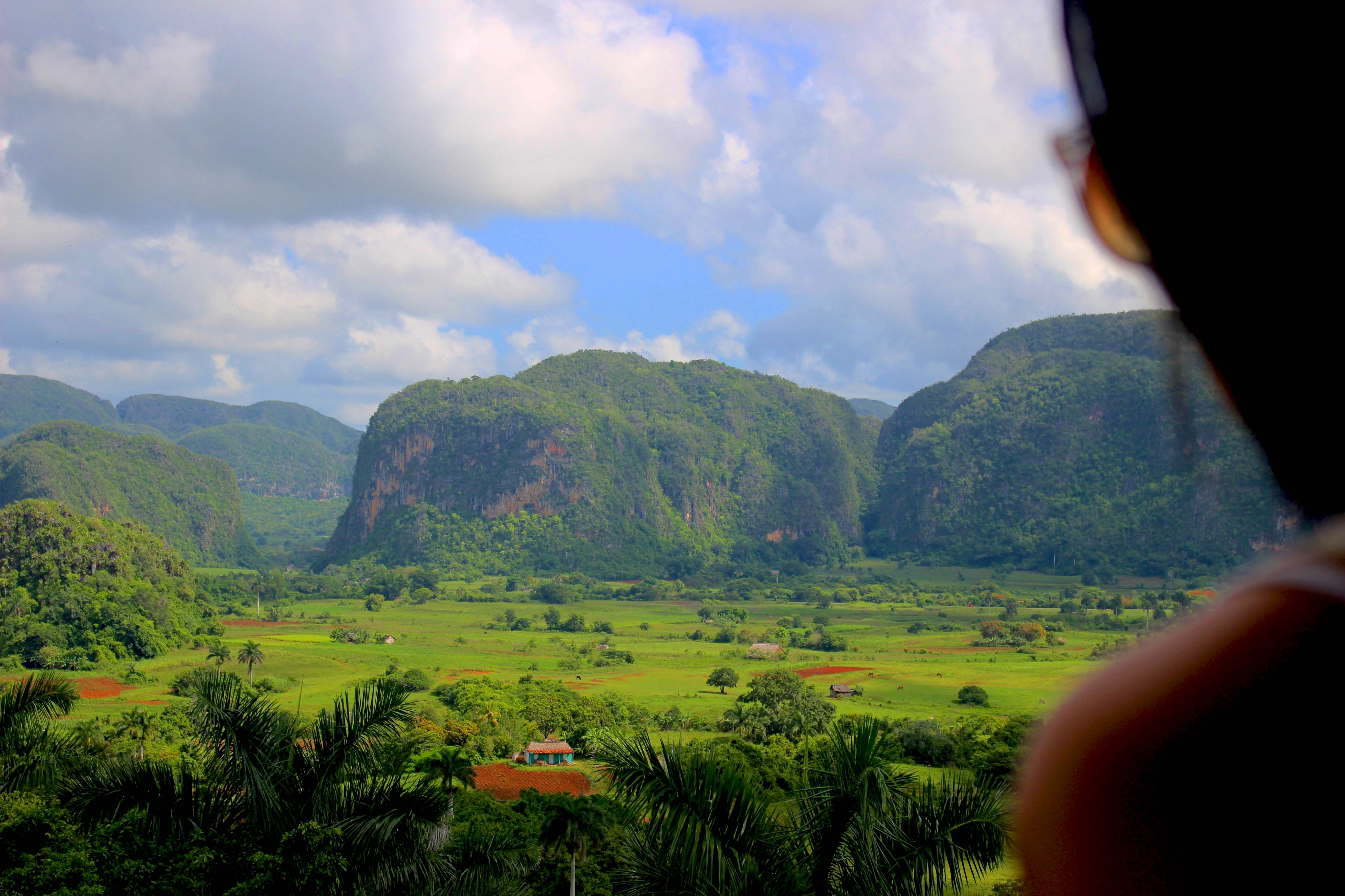 Admiring the molgotes in Viñales. Later we would go horseback riding through those tobacco fields and learn how to roll cigars.
Enjoying the rainbow from the rooftop of the Inglaterra hotel before attending the national ballet in the Grand National Theatre pictured behind us.
"I truly lived the dream in Cuba! Couldn't have asked for better living arrangements, food, or opportunities for adventure!"