Women in Agriculture Network (WAgN) Cambodia: Gender- and Ecologically-Sensitive Agriculture
Lead Institution:Pennsylvania State University
Award Amount: $1,000,000
Focus Country: Cambodia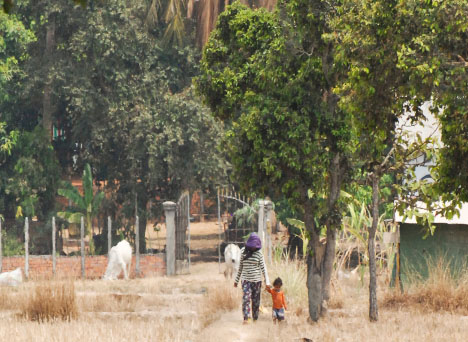 Principal Investigator: Ricky M. Bates - rmb30@psu.edu
U.S. Collaborating Institution: University of Tennessee Institute of Agriculture (UTIA)
International Collaborating Institution(s):Agricultural Development Denmark Asia (ADDA), World Vegetable Center (AVRDC), Asia Impact Center - ECHO, Kasetsart University, Royal University of Agriculture, Conservation Agriculture Service Center, University of Battambang

Summary: The WAgN Cambodia project aims to empower women and improve nutrition by promoting women's participation in the value chains for horticultural crops and rice produced through sustainable intensification (SI) practices. The overarching goal of the project is to provide a scientifically rigorous and comprehensive understanding of the nexus of gender and SI. This will enable us to develop, inform and deploy synergistic programs to enhance women's status and advance SI. We aspire to improve the socioeconomic and nutritional status of women and their families as well as identify, develop and strengthen existing and potential SI technologies, practices and policies that promote production of nutritious and marketable food while protecting agroecological resources. The project will pursue three major objectives:
To identify and promote adoption of gender-sensitive SI technologies and practices in rice and horticulture value chains targeted to improve ecological resilience as well as the nutritional status and income for poor households.
To identify and foster enabling conditions and social networks for women to fully participate in the local, regional and international value chains for horticultural and rice-based foods produced via SI.
To build capacity in local agricultural institutions, nongovernmental organizations, and international universities and research institutes, to broaden the span of innovations in gender and ecologically sensitive SI.
The project will promote gender equity and family nutrition by understanding and breaking down the barriers to women's participation in the value chains for SI. We contend that horticultural and other foods produced by smallholder farmers via SI are produced and distributed through value chains that can be exploited to create new opportunities for women and improve the nutrition of their families. Our project stresses the importance of markets and will forward efforts to move Cambodian agriculture towards a market-driven system.
2017 Progress Updates
A "Wild Garden" concept and research plan was developed in collaboration with Kasetsart University and ECHO Asia to complement large-scale SI using cover crops and small-scale SI with vegetables.
An in-depth training was conducted on soil assessment tools and development of a robust research strategy for 2017-2018 to assess soil improvement on rain-fed paddy rice land using SI technologies and practices.