Sustainable intensification through better integration of crop and livestock production systems for improved food security and environmental benefits in Sahelian zone of Burkina Faso
Lead Institution
: International Livestock Research Institute (ILRI)
Focus Country
: Burkina Faso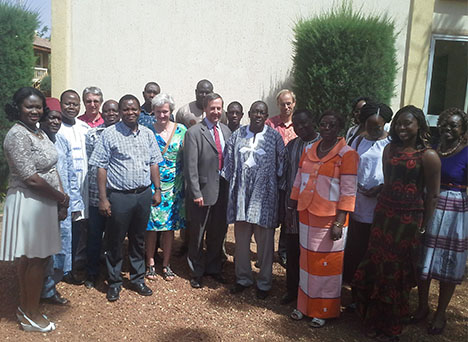 Summary: The overall goal of this project is to improve household food production and nutrition and to enhance ecosystem services through better integration of crop and livestock production systems in the Sahel region of Burkina Faso. The specific objectives are:
To increase crop and livestock integration in these mixed systems through improved crop production (dual purpose sorghum and cowpea varieties), soil fertility (application of manure and inorganic fertilizer), water harvesting (zai and stone-bunding with vegetation strips) and livestock feed enhancing interventions (forage sorghum, dual purpose cowpea, efficient feeding systems).

To assess the economic, social, nutritional and environmental benefits and tradeoffs of the productivity-enhancing interventions, and the potential for cost-efficient outscaling.

To build capacity of smallholder farmers and researchers on sustainable intensification and improved nutrition through multistakeholders' platforms and to provide platforms for co-learning.
The research activities will be solution-focused to meet the needs of farmers and will be implemented at both household and community levels in Dori and Ouahigouya districts in the Sahelian zone of Burkina Faso with rainfall between 300 and 600 mm per year. The main underlying hypothesis is that there is a great potential for the smallholder farmers currently engaged in crop-livestock systems to produce more in a given area of land, thereby improving productivity, food security and nutrition while preserving ecosystem services.
2017 Progress Updates
The project's baseline study of 400 households in the Dori and Ouahiguya regions was completed during this reporting period.
Participatory on-farm testing of sustainable crop and livestock intensification innovations took place. Initial results suggest that utilization of improved crop varieties in addition to soil conservation, manure, and fertilizer application promotes the highest grain and fodder yields.
A tradeoff analysis of productivity enhancing interventions was initiated. Preliminary results showed that for the most vulnerable group, the severely food insecure farm households, the best options are to increase sorghum productivity and to increase possibilities to generate further off farm income.