Last updated January 26, 2012
Spring 2012
Psi Chi Officers 2011-2012
| | |
| --- | --- |
| President: | Samantha Coup |
| Vice President: | Donte Bernard |
| Secretary: | Brittani May |
| Treasurer: | Laura Banks |
| Advisor: | Dr. Harris |
If you have any questions or suggestions about Psi Chi, please feel free to contact any of the officers!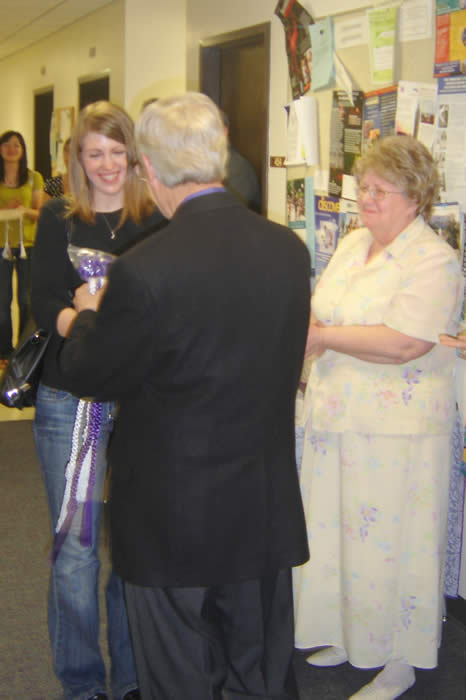 Tightrope-Walking Rats!
Thanks to the volunteers who trained our tightrope-walking rats for the K-State Open House. If you are interested in helping next year, please contact Psi Chi President Samantha Coup at samcoup@ksu.edu.
Psi Chi Website
Visit the KSU Psi Chi website at http://www.k-state.edu/psych. You must first select "Undergraduate Program" on the left then click on "Psi Chi" on the drop down menu. You may also visit the national Psi Chi page at www.psichi.org.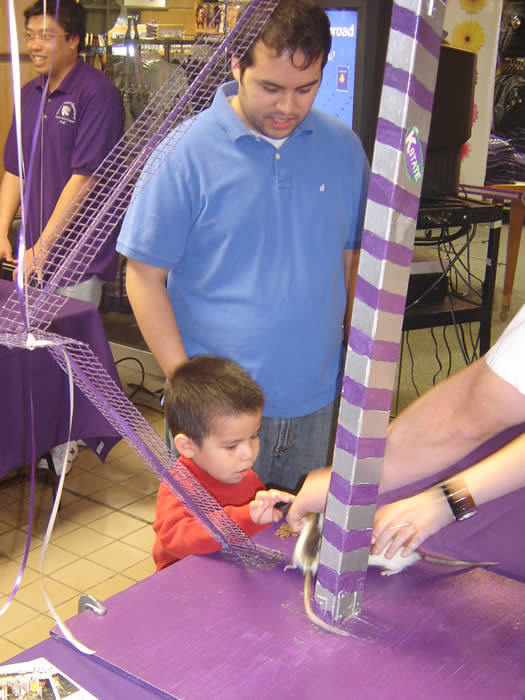 Spring Banquet
At the end of each school year, Psi Chi holds a banquet in the spirit of recognizing undergraduate students, graduate students, and faculty in the Psychology department. This year's banquet was held on Sunday, April 26 at Valentino's. Everyone enjoyed a guessing game to identify preschool age photos of Psych. Faculty.
Food Drive!
Psi Chi sponsored another food drive during finals week last May. Donations benefited the Flint Hills Breadbasket. Thanks to psychology department students, faculty and staff who participated!
Bluemont Hall 588
Attention all members! Psi Chi has its own room: Bluemont Hall 588. The room has a computer, a printer, information on graduate programs, and internet access. So, if you are in need of a nice, quiet place to study or sit back and relax, feel free to use this space. The room key is located in the Psychology Department's main office on the fourth floor of Bluemont. Just ask for the key and you've got your own office for the day!
Research Assistant Positions
If you are interested in being a research assistant next semester, please let us know and we will pass your name along to professors and graduate students. Please specify if there is a certain area you are most interested in.
More Ideas?
Let us know if you have comments or questions. Feel free to contact any Psi Chi officer via e-mail:
Samantha Coup samcoup@ksu.edu
Donte Bernard bernard1@ksu.edu
Brittani May britti3@ksu.edu
Laura Banks labanks@ksu.edu
Dr. Richard Harris rjharris@ksu.edu
Faculty Advisor