Lester Loschky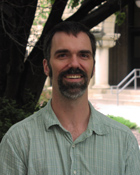 Contact Information
Office: BH 471
Phone: 532-6882
E-mail: loschky@ksu.edu
Current Funding Sources
Office of Naval Research (ONR)
National Science Foundation (NSF): Grant website
Research Interests
My work is concerned with scene perception, from both a perceptual and a cognitive viewpoint, and its real world applications. As we look around us, our eyes move about three times per second, presenting us with an ever-changing collage of real world scenes. For example, as you read this, you may be seated in a room. Outside the room is likely a hallway. Outside the building may be a grassy area, a street, and perhaps a parking lot. As you look around at these scenes, you see innumerable objects. In your room, you may see a few large objects such as a desk and a bookshelf, and many smaller objects such as a computer, books, papers, pens, pencils, and coffee mugs. Importantly, much research shows that you will likely only pay attention to and remember a few such objects in any given scene. My research investigates how we perceive, attend to, and remember scenes and the objects in them, and it therefore spans the traditional areas of perception and cognition. The scope of this research can best be understood in terms of the time course of perception and mental representation of a scene. First, how is it that within the first tenth of a second of viewing a scene we are able to grasp its category, so we can easily distinguish an office versus a parking lot versus a street? Next, as we proceed to observe such a scene, what causes us to attend to and look at certain objects, and to ignore others? Then, what effect does attending to and looking at a particular object in a scene, for example a coffee mug, have on our later memory for that object versus other objects in the scene, for example a cell phone?
My research philosophy is that good basic research should always be capable of suggesting applications and good applied research should always inform theories of perception and cognition. Each of the above questions is important in terms of developing theories of how the brain enables us to perceive scenes, with the long-term goal of better understanding how the brain makes sense of our everyday visual environment. From an applied perspective, answering these questions is important for a wide range of application areas, including designing better human-computer interfaces and artificial vision systems, both topics I am interested in. My applied work in human-computer interaction, has investigated issues related to gaze-contingent multi-resolutional displays. These are computer displays, for example virtual reality or simulators, that use an eye tracker to identify where the viewer is looking, and put the highest image resolution wherever the viewer looks, with lower resolution everywhere else, in order to save processing resources and bandwidth. This applied work has led me to investigate fundamental interactions between visual perception and action, in particular how the limits of visual resolution affect attentional selection and eye movement control. Likewise, my recent basic research on scene gist acquisition is being done in collaboration with electrical and computer engineers with the goal of informing artificial vision systems, and to improve automated image searching on the internet.
Student Involvement
I am currently working with a number of graduate and undergraduate students on several of the above research topics in visual cognition. My philosophy for working with students is to provide them with guidance in carrying out research while challenging them to contribute their own ideas and viewpoints to our work together. Undergraduate students who are interested in carrying out research on such topics can apply to be a PSYCH 599 research assistant in my lab. As a research assistant, students will have a chance to experience the entire cycle of research, from reading articles on a topic we are investigating, to generating research questions and hypotheses, to designing, preparing, and carrying out experiments, to analyzing the data, writing up the results, and presenting it at a conference, or submitting it for publication in a scientific journal. How many of these activities an individual student will take part in as a research assistant depends on their level of motivation and commitment. Such experience is very valuable for getting an idea of what doing research in graduate school is like, and can greatly strengthen a graduate school application. Graduate students who are interested in working with me can either work on one of my on-going research projects, or propose their own topic of research, depending on their level of experience and motivation. Graduate students will also gain valuable experience in supervising undergraduate research assistants in the lab. Support for graduate students comes from grant money when available, or departmental graduate teaching assistantships. Students who contribute significantly to our research will have ample opportunity to co-author publications resulting from it. Students interested in working with me can contact me by phone (785-532-6882) or e-mail (loschky@ksu.edu).
Those graduate or undergraduate students interested in learning more about the general topic of Visual Cognition are invited to join my non-credit Visual Cognition Reading Group, in which we read a different recent article on a topic in Visual Cognition once a week and discuss it. Active members of the group take turns selecting a paper to read, and leading discussion of it. The discussions are wide-ranging, stimulating, educational, and a lot of fun.
Recent Graduate Students
Adam Larson, B.S. Iowa State University. M.S., Ph.D. Kansas State University. Adam has coauthored 4 papers with me (listed below) and has several others in progress or under submission. He did his MS thesis on memory for picture stories in relation to event perception, and his Ph.D. dissertation on the relationship between scene gist recognition and event perception.
Tyler Freeman, B.S. University of North Carolina at Wilmington. M.S., Ph.D. Kansas State University. Tyler has coauthored 1 paper with me (listed below) and has another under revision for resubmission. Tyler did his MS thesis on the spatial frequencies most useful for accurate drawing of faces (see below), and his Ph.D. dissertation on the perception of threat in rapid natural scene perception.

Representative Publications (*indicates student co-author; click on underlined citations to go to those articles)
*Madsen, A., *Larson, A. M., Loschky, L. C., & Rebello, N. S. (2012). Differences in visual attention between those who correctly and incorrectly answer physics problems. Physical Review Special Topics - Physics Education Research, 8(1), 010122-1-13.
Loschky, L.C., & *Larson, A.M. (2010). The natural/man-made distinction is made prior to basic-level distinctions in scene gist processing. Visual Cognition, 18(4), 513-536.
Loschky, L.C., Hansen, B.C., Sethi, A. & *Pydimarri, T. (2010). The role of higher-order image statistics in masking scene gist recognition. Attention, Perception & Psychophysics, 72(2), 427-444.
*Larson, A.M. & Loschky, L.C. (2009). The contributions of central versus peripheral vision to scene gist recognition. Journal of Vision, 9(10):6, 1-16, http://journalofvision.org/9/10/6/, doi:10.1167/9.10.6.
Loschky, L.C. & Wolverton, G.S. (2007). How Late Can You Update Gaze-contingent Multi-resolutional Displays Without Detection? ACM Transactions on Multimedia Computing, Communications and Applications, 3(4): 25, 1-10.
Loschky, L.C., McConkie, G.W., Yang, J. & Miller, M.E. (2005). The limits of visual resolution in natural scene viewing. Visual Cognition, 12(6), 1057-1092.
Zelinsky, G.J. & Loschky, L.C. (2005). Eye movements serialize memory for objects in scenes. Perception and Psychophysics, 67(4), 676-690