Adam Larson, Ph.D.
Post-Doctoral Research Associate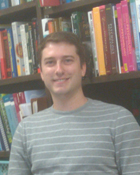 Description of Research
Link to Google Scholar profile
The opening shot of a film presents the viewer with a very large visual scene containing characters performing actions in a setting. The psychological task for the viewer is to comprehend the visual event, but the key unanswered question is how the viewer accomplishes this task. Due to the design of the eye, only one specific point in the visual world can be fixated at a time. Therefore, the viewer's comprehension of the shot is based solely on the visual information extracted during that single eye fixation. Likewise, the viewer's current understanding of the shot will influence what is fixated next in the scene. Thus, the interaction between visual perception, attention, and cognition that occurs during the first fixation on a scene, and over multiple fixations on a scene, are the emphasis of my research program.
I have focused much of my research on the early cognitive processes that occur during a single eye fixation on a scene. Some of the research questions include: How our representation of a scene image changes over a single eye fixation? How does our central and peripheral visual field contribute to scene categorization? And, how is spatial attention distributed in a scene over the time-course of a fixation? These early processes are then linked to later processes that occur over multiple fixations, which are involved in understanding complex events and comprehension. These research topics include examining eye movements to determine the critical visual information that is necessary to identify an action/event in scenes images and videos. Are eye movements sensitive to the cognitive task involved in comprehending a visual narrative? And, how are comprehension, memory, and event perception influenced by the organization of a visual narrative? Critically, by better understanding the interaction between the early and late cognitive processes, we can then understand how we comprehend film and our visual world.
Representative Publications
Madsen, A. M., Larson, A. M., Loschky, L. C., & Rebello, N. S. (2012). Differences in visual attention between those who correctly and incorrectly answer physics problems. Physical Review Special Topics-Physics Education Research, 8(1), 010122.

Loschky, L.C., & Larson, A.M. (2010). The natural/man-made distinction is made prior to basic-level distinctions in scene gist processing. Visual Cognition, 18(4), 513-536.
Larson, A.M. & Loschky, L.C. (2009). The contributions of central versus peripheral vision to scene gist recognition. Journal of Vision, 9(10):6, 1-16, http://journalofvision.org/9/10/6/, doi:10.1167/9.10.6.
Loschky, L. C., & Larson, A. M. (2008). Localized information is needed for scene categorization, including the natural/man-made distinction. Journal of Vision, 8(1):4, 1-9, http://journalofvision.org/8/1/4/, doi:10.1167/8.1.4.

Representative Presentations

Larson, A.M., Loschky, L.C., Pollack, W., Bjerg, A., Hilburn, S., & Smercheck, S. (2009, May). Variation in scene gist recognition over time in central versus peripheral vision. Poster presented at the 8th Annual Meeting of the Vision Sciences Society, Naples, FL.

Larson, A.M., Loschky, L.C., Matz, E., Smerchek, S., Weber, P., & Berger, L. (2008, May). The Roles of Central versus Peripheral Visual Information in Recognizing Scene Gist. Poster presented at the 8th Annual Meeting of the Vision Sciences Society, Sarasota, FL.

Matz, E., Smerchek, S. & Larson, A. (2007, March). The Importance of Scene Localization in Scene Categorization. Talk presented at the 27th Annual Great Plains Student Psychology Conference, Wichita, KS. [Awarded 2nd Place in Session]

Teaching Experience

General Psychology (Psych 110)
Fundamentals of Sensation & Perception (Psych 480)

Laboratory Instructor

Experimental Research Methods

Recitation Instructor

General Psychology

Teaching Assistant

Fundamentals of Sensation & Perception
Problem Solving & Decision Making
Cognitive Psychology
General Psychology

Education


B.S. Psychology (2006) Iowa State University
M.S. Psychology (2010) Kansas State University
Ph.D. Psychology (2012) Kansas State University

Email address: adlarson@ksu.edu