Job opportunities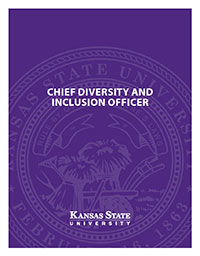 The Chief Diversity and Inclusion Officer (CDIO) is a senior leader who serves as a catalyst to leverage best practices and resources across Kansas State University's campuses to promote a culture of inclusion where individuals from all racial and ethnic identities, ages, nationalities, social and economic status, sexuality/sexual orientation, gender identity/expression, religious, political and ideological perspectives, and physical and mental abilities are able to thrive and be engaged.
View position and application process.
View the Chief Diversity and Inclusion Officer Position Profile (pdf).
View the university strategic plan.