O.H. Kruse Feed Technology Innovation Center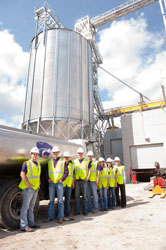 The feed science management program at Kansas State University has provided nearly 700 graduates to the U.S. feed manufacturing industry in the nearly 60 years since the industry helped to establish the program at the university. The new feed mill currently under construction will broaden the educational opportunities and significantly enhance the research capacity for both K-State departments involved.
Construction on the O.H. Kruse Feed Technology Innovation Center began in July 2012. The world-class facility is a joint effort between the department of grain science and industry and the department of animal sciences and industry. The $13 million project will address the urgent needs of the livestock feed industry while providing the vision, flexibility and capacity in looking to the future to realize the next generation of opportunities.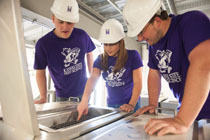 A lead cash gift of $2 million cash was made in October 2007 by Ronald Kruse, an alumnus of the K-State feed science program, to honor his father, Otto H. Kruse. The State of Kansas, Kansas Bioscience Authority, Kansas State University and its College of Agriculture are providing $10 million in funding required for the new facility. Additional cash gifts and in-kind equipment donations have provided the remaining resources needed for construction and equipping of the new facility. Construction will be completed in early summer 2013.