Basketball Training Facility
For Kansas State University to be among the top athletic programs in the Big 12 conference and the country, the basketball program needed to build upon its recent successes. Facilities were a concern, as the university was one of only two schools in the Big 12 Conference without a basketball training facility.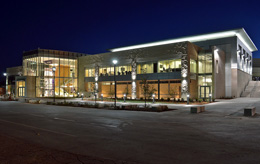 In February 2011, ground was broken on the 50,000 square foot facility adjacent to the east of Bramlage Coliseum. The $18 million training facility was completed in August 2012 and is now the central headquarters for the Kansas State men's and women's basketball teams.
The teams can now practice anytime at the facility, instead of traveling to off-site locations, as was done in the past. The new, fully functional men's and women's basketball facility includes: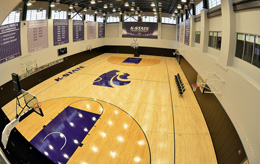 Practice courts (two full size courts designed for shared or private use)
Locker rooms (for both programs and coaches)
Players' lounges (a private space for players to share)
Coaches' offices (assistant coaches offices overlook practice courts)
Weight room (2500+ square feet) Sports medicine center (with hydrotherapy facility)
Team film room (theatre style to be utilized by both programs)
Entrance atrium & viewing deck (open design ideal for donor receptions recruiting functions)