News
2nd Annual PES Bowl-A-Thon

The K-State Chapter of Phi Eta Sigma is holding a Bowl-A-Thon fundraiser benefiting the organization's philanthropy, the Terry C. Johnson Center for Basic Cancer Research at Kansas State University on Monday, February 11 from 8:30 - 11:30 pm in the K-State Student Union Recreation Center. The Bowl-A-Thon is a scratch bowling tournament of 48 teams of four bowlers bowling one game in one of three time slots--8:30, 9:30 or 10:30. The cost is $10 per bowler or $40 per team. All proceeds will be donated to the Terry C. Johnson Center for Basic Cancer Research. To register, please complete the registration form and return to Phi Eta Sigma c/o Office of Student Activities and Services located at 809 Student Union. For questions, please contact Ashley Wunder at awunder@k-state.edu or Jessica Eisenbarth at jesseis@k-state.edu.

Phi Eta Sigma Officers Attend National Convention

Cheyanne Alvarado, President, and William Trieb, Vice President, attended the Phi Eta Sigma National Convention in Salt Lake City, UT October 5-7, 2012. For more information about the National Convention, visit the National Phi Eta Sigma website at http://www.phietasigma.org/event_national.htm.
Phi Eta Sigma Initiates 136 New Members on April 15, 2012
Congratulations to the 136 new members initiated at the induction banquet at the K-State Student Union Ballroom on April 15! The ceremony was hosted by Phi Eta Sigma officers and the keynote address was delivered by Mariel Martinez, K-State student. The new members are:
Rashelle Anderson
Stacie Anderson
Shana Baker
Emily Barnhill
Casey Barrett
Jordan Becker
Kassi Bienusa
Julie Bitter
Brian Blando
Shelli Brown
Lindsey Brunner
Bailey Buer
Cameron Butterfield
Ellyn Calvert
James Calvert
Taran Carlisle
Emily Carnes
Kurtis Clawson
Haley Claxton
Holly Craig
Dylan Crosson
William Damme-Longinaker
Brooke Dechant
Katherine Deckert
Danielle Dobratz
Nicholas Drake
Jessica Eisenbarth
Jacob Ewers
Ryan Feuerborn
Dakota Foos
Tanner Fordham
Kimberly Friedrichs
Kristen Funk
Katherine Gallion
Suhani Gandi
Kevin Garman
Caysi Gatts
Christine Gerhold
Emma Giles
Edelmiro Gonzalez
Amelia Govert
Daniel Gremillion
Montana Grier
Dallas Haerr
Renee Heideman

Casey Henderson
Allie Henry
Benjamin Herbel
Jonathan Higgins
Kasey Hiltgen
Simone Holliday
Hannah Hoskinson
Elise Hosty
George Huston III
Jacob Ilten
Grant Jackson
Storm Jackson
Hunter Jewett
Danielle Jones
Lena Jones
Mariah Jones
William Jones
Mary Joyce
Abigail Kaplan
Brooke Katterhenry
Cassie Kerr
Kiersten Kirkendoll
Katherine Kramer
Katelyn Krieg
Taylor Kuckelman
Ashley Ladd
Nathan Laudan
Kurt Lockwood
Lauren Lohfink
Zachary Manuel
Gylee Martin
Kelsey Martin
Amanda McGuire
Jessica McKeown
Jason Messner
Sheridan Miles
Shannon Moore
Kaitlyn Mosher
Eleanor Musil
Carter Olson
Anthony Pandino
Donald Pepoon
Lexi Peterson
Alexandra Plowman
Krista Poore

Taylor Popp
Shandee Porter
Abby Reynolds
Ashlee Reiss
Emily Rempel
Kassidy Robbins
Matthew Roberti
Megan Roberts
Pamela Rodriguez
Brian Rohleder
Whitney Root
Kaylen Rossi
Kayla Rowton
Benet Ruggles
Emily Schadler
Allie Schmidtberger
Monica Shelton
Cole Smith
Jessica Smith
Shelby Smith
Ashley Standage
Jennifer Stanley
Jordan Strunk
Timothy Suttle
Michaela Synowiecki
Allison Tapp
Hayley Taylor
Logan Terry
Paige Thomas
Jasmine Thompson
April Totter
Ashley Uhl
Rachel Vogler
Brent Weaver
Jared Wendelburg
Adam Wilkerson
Sheron Williams
Marin Willis
Victoria Willis
Benjamin Windholz
Magen Witcher
Kelsey Wolf
Grace Works
Ashley Wunder
Ryan Zwick
Phi Eta Sigma Donates $640 to the Johnson Center for Basic Cancer Research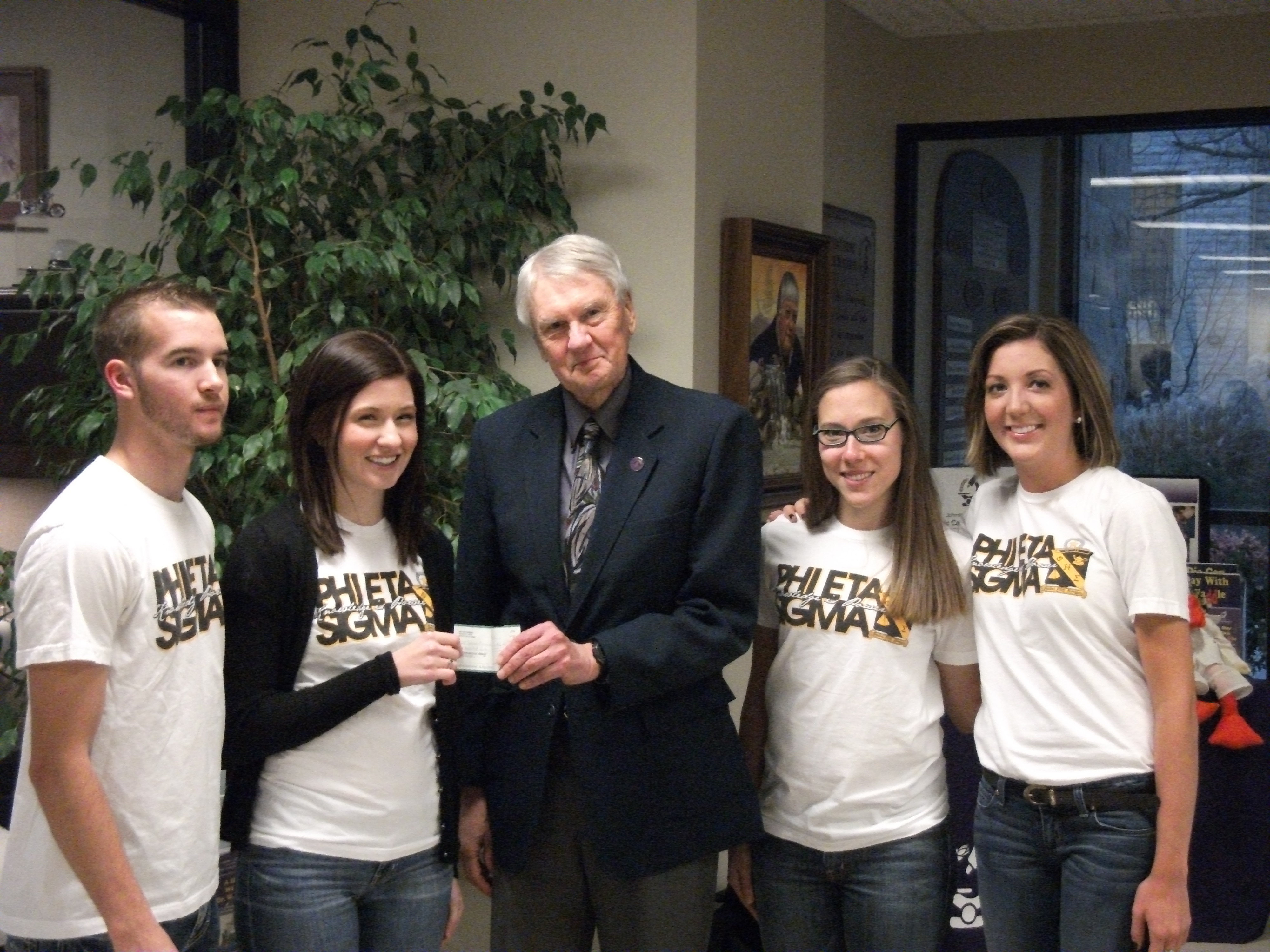 Phi Eta Sigma officers presented Rob Denell, Director of the Terry C. Johnson Center for Basic Cancer Research with a check on December 5, 2011. The funds were raised from a Bowl-A-Thon benefiting the center held at the K-State Student Union Recreation Center on November 1. In 2010, Phi Eta Sigma members voted to support the center for their philanthropy. The Bowl-A-Thon was the first of what we hope will be an annual event.

Commitment to Service Earns Phi Eta Sigma Honor Society Members National and Chapter Scholarships
Several members of the Kansas State University chapter of Phi Eta Sigma, the national freshman honor society, are receiving national and local scholarship awards for the 2011-2012 academic year.
Parker Rayl, junior in biology, Hutchinson, received a $6,000 Distinguished Member Scholarship from the national scholarship committee as well as a $350 chapter scholarship.
Chris Meyers, senior in finance, Olathe, received a $1,000 award from the national scholarship committee.
Jeni Kemnitz, junior in elementary education, Manhattan, received a $350 chapter scholarship.
Rachel Helmke, senior in psychology, Tecumseh, received a $350 chapter scholarship.
Visit the K-State News Services page for May 11, 2011 to see the full press release.
Phi Eta Sigma Receives the Celebrating People in Action Award for Community Service
The K-State chapter of Phi Eta Sigma received the Celebrating People in Action Award for Community Service for outstanding student organization at the HandsOn Kansas State Volunteer Recognition Ceremony on April 11, 2011. Phi Eta Sigma was nominated by Marianne Cullers with the Hand-to-Hand program sponsored by the Douglass Center. The Hand-to-Hand program provides free tutoring and homework assistance to at-risk elementary and secondary school students in the Manhattan community. Jeni Kemnitz, community service co-chair, coordinates other Phi Eta Sigma members to volunteer at the Hand-to-Hand program each week. The award is given to student organizations promoting an ethic of service on and off campus, demonstrating commitment by involving others in service and effectively mobilizing diverse populations on campus to address an issue of importance in the community.