Wayne E. Goins, University Distinguished Professor
Professor of Music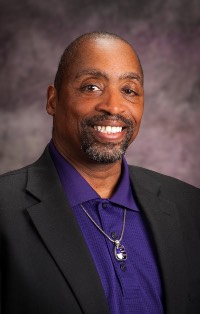 Director of Jazz Studies
Contact Information
222 McCain Auditorium
785-532-3822
weg@k-state.edu
Jazz website: http://www.k-state.edu/music/jazz/
Education
Ph.D. 1998, The Florida State University (Music Education)
M.M. 1985, University of Tennessee, Chattanooga (Music Education)
B.S. 1983, University of Tennessee, Chattanooga (Music Education)
Areas of Specialization
Music Education; Jazz Studies; Electric Guitar; Music Biographies; Recording Artist; Blues Research
Biography
Wayne Everett Goins, University Distinguished Professor of Music, is a versatile jazz guitarist and a renowned researcher in the field of music education. He is the director of jazz studies at Kansas State University, where he conducts big bands and teaches combos, private guitar lessons, jazz theory and jazz improvisation courses.
Goins plays, jazz, blues, pop, funk, rock and reggae. He has recorded more than 20 albums for Ichiban Records and started his own music label, Little Apple Records, for which he recorded six albums under his own name, as well as producing several others for his students.
Goins has delivered 54 lecture presentations and also delivered thousands of music performances at international, national, regional and local venues. He has performed with such luminaries as alto saxophonist Bobby Watson, organist Jimmy McGriff, tenor saxophonist Joe Lovano, trumpeter Mike Metheny, guitarist Kenny Burrell, and vibraphonist Lionel Hampton, among many others. His music has been performed with Pearle Cleage in the Broadway play, "Blues For an Alabama Sky," and his guitar work was used for August Wilson's hit Broadway play, "Seven Guitars."
Since coming Kansas State University, Goins has written 30 articles, 18 CD reviews and numerous columns for magazines such as Pure Guitar Magazine, Jazz Ambassador Magazine and Jazz Improv Magazine. He also has published 12 peer-reviewed articles and three book chapters on jazz. Goins has recently written CD reviews for Living Blues Magazine. Goins has written five books on jazz, three of which were published by The Edwin Mellen Press: "Emotional Response To Music: Pat Metheny's Secret Story," "The Jazz Band Director's Handbook: A Guide To Success," and "A Biography: Charlie Christian, Jazz Guitar's King of Swing." One of his books, "The Wise Improviser: A Jazz Method for Instrumentalists," was written specifically for his students who actively participate in the jazz program at K-State.
Goins created the Hale Library's Jimmy Rogers Archive Project, which is an exhibit of approximately 2,500 items related to Rogers' career and performances. Goins wrote the 2014 biography "Blues All Day Long: The Jimmy Rogers Story," which was awarded the "Blues Biography of the Year" by Living Blues Magazine in July 2015. In October 2015, Goins won the 2015 Association for Recorded Sound Collections Awards for Excellence in Historical Recorded Sound Research. This award is presented to authors and publishers of books, articles, liner notes and monographs, to recognize outstanding published research in the field of recorded sound.
Goins has previous teaching experience in Chicago, Boston and Atlanta, where he served as the jazz director at Kennesaw State University. During that time, he also taught at Morehouse College and Emory University. For his current writing project, Goins has been chosen to write a new book entitled Maestro, the definitive biography on legendary blues musician Taj Mahal for the University of Illinois Press.
To see Dr. Goins's complete Vita, click here.