How to Update the Mediasite Desktop Recorder Connection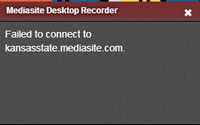 If you previously installed the Mediasite Desktop Recorder software on your computer prior to June 30, 2016, you need to update the software's settings so that your recordings are uploaded to the correct Mediasite server. The instructions below describe how to remove your existing connection and then add a connection to the new Mediasite server.
Step 1: Open Mediasite Desktop Recorder on your computer
For Windows, click the Start button to open the Start Menu and search for "Mediasite Desktop Recorder 2"
For Mac, Mediasite Desktop Recorder can be opened from the Launchpad
Step 2: Remove the existing connection
In the top-left corner of the Mediasite Desktop Recorder interface, click on the menu item next to the colorful Mediasite logo. Depending on the state of your connection, the menu item will display "Sign In" or your K-State eID (A). The menu will drop down to display a list of your current connections. Most installations will only have one existing connection, labeled with your K-State eID.
Click "Forget a Connection"(B).
An "X" will appear next to each connection. Click the "X" to remove your existing connection (C).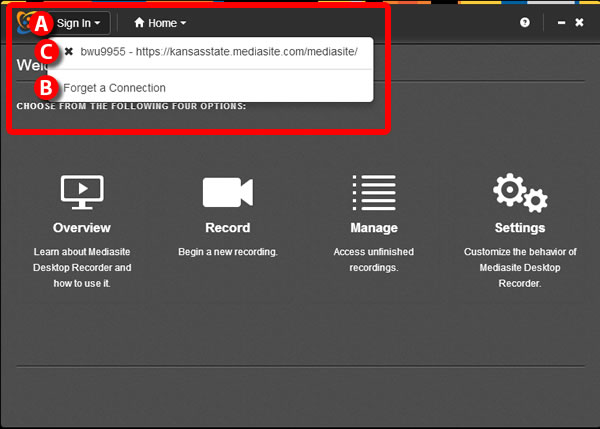 Click "Forget" to confirm your selection and forget the existing connection.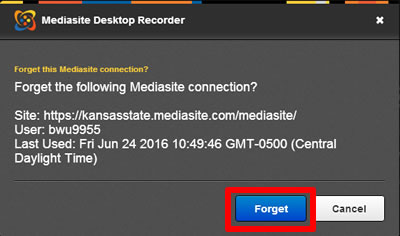 Step 3: Add the new connection
Click on this link to open a webpage for Mediasite Desktop Recorder. You may be prompted to enter your K-State eID and password.
On the webpage, click the "Register Mediasite Desktop Recorder" button to the right. Your browser may prompt you to confirm you want to launch the Mediasite Desktop Recorder application.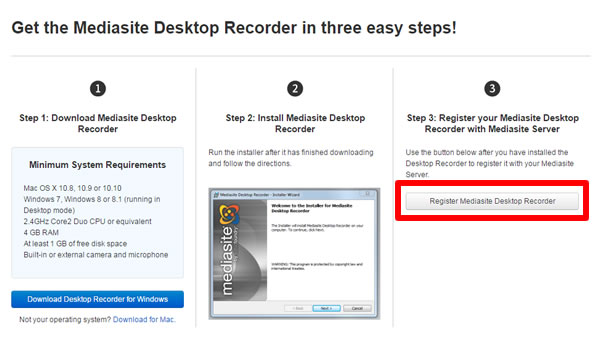 After the Mediasite Desktop Recorder application launches, you should see a message indicating authentication was successful and that the new connection was registered successfully. Your new connection should appear in your list of connections: "eID - https://mediasite.k-state.edu/mediasite/"
If you encounter any problems performing the above procedures or require assistance, please contact the K-State IT Help Desk at 785-532-7722.