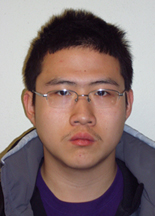 Source: Capt. Don Stubbings, 785-532-6412
Photo available. Contact news services at 785-532-6415, media@k-state.edu
News release prepared by: Cheryl May, 785-532-6415, may@k-state.edu
Tuesday, Sept. 1, 2009
CAMPUS ALERT: IF YOU SEE BORONG LIU ON CAMPUS, CALL POLICE
MANHATTAN -- Borong Liu, a former Kansas State University English Language Program student, has been released from the Riley County Jail where he had been confined on $10,000 bond. His arrest was the result of an ongoing investigation of criminal threats to individuals.
"Borong Liu is banned from K-State, so if anyone sees him on campus, we ask that they call the K-State Police at 532-6412," said Capt. Don Stubbings.
Liu is an Asian male, 5'9" tall, about 160 pounds and wears glasses.
Last spring, the investigation centered on threats to specific individuals, not to the campus community, Stubbings said.