Sources: Chandler Johnson, csj@k-state.edu; Brock Ingmire, bingmire@k-state.edu;
Jenna Surprenant, jlsurp@k-state.edu; and Craig Brown, 785-532-6790, craigb@k-state.edu
Hometown interest: Lyons, Manhattan and Wichita, Kan.; and Marshall, Minn.
Website: http://www.speechneverdies.org
Photos available: http://www.k-state.edu/media/images/nov11/111loudspeakercreators.jpg and http://www.k-state.edu/media/images/nov11/111loudspeakerlogo.jpg
Photo cutlines: No. 1 -- The creators of Loudspeaker, from left to right: Brock Ingmire, Chandler Johnson, and Jenna Surprenant; No. 2 -- Loudspeaker logo.
Videos available: http://www.vimeo.com/channels/speechneverdies
News release prepared by: Tyler Sharp, 785-532-2535, tmsharp@k-state.edu
Tuesday, Nov. 1, 2011
Raising their voices: Forensics team members create nonprofit organization dedicated to speech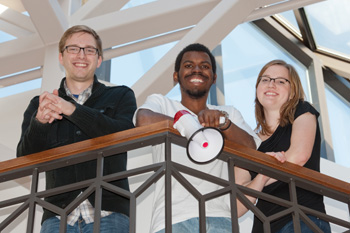 MANHATTAN -- Messages are powerful, and speech never dies.
Such beliefs have driven a trio of Kansas State University students through their careers as forensics team members. Now they are translating that passion and their experiences into a new venture: Loudspeaker.
Loudspeaker is a nonprofit organization aimed at provoking discussions of important social issues. The organization wants to accomplish this by offering the first national database for exceptional college forensics speeches. Loudspeaker also will feature a weekly podcast examining a particular forensics performance. Supporting information and stories will accompany each performance. Speech submissions will be done primarily by students.
Jenna Surprenant, co-creator of Loudspeaker and a junior in communication studies, Marshall, Minn., hopes the organization will broadly demonstrate what forensics programs represent.
"Whenever we, as a forensics team, show up at a hotel they think we are dealing with dead bodies," Surprenant said. "We're competitively speaking. The general public does not understand the magnitude of what we do and that we produce some highly valued rhetoric at the end of the day."
Surprenant and Loudspeaker's co-creators, Brock Ingmire, senior in communication studies, Manhattan, and Chandler Johnson, senior in journalism and mass communications and communication studies, Wichita, have committed more than 700 hours to ensure their organization becomes a reality. Recent efforts have focused on promotions and outreach to high school forensics programs and colleges across the U.S., and on social media websites and the development of online commercials.
"We're trying to take those speeches and show people how important their voices are," said Johnson, a former member of the university's forensics team. "Putting your voice out there and stating your opinion where it has some type of credibility and structure to it has the ability to influence more then just one or two people."
The idea for Loudspeaker originated in November 2010, then the trio took their idea to the finals of the Next Big Thing, the university's entrepreneurial idea competition. The experience, which earned them the best pitch award and $500, was invaluable to the development of Loudspeaker, Ingmire said.
"I think it provides the instant credibility and legitimacy that we lacked initially," he said. "Being a finalist was not only successful monetarily, but schools and professors across the nation started to say that this might not be a hare-brained idea and we could actually apply this in a number of different ways."
Collaborations have been common in the development of Loudspeaker. The trio has engaged students from across campus in different fields of study. Among them is Casey Dwyer, junior in mass communications, Lyons, the creator of the Loudspeaker website, http://www.speechneverdies.org, which launches Nov. 20. Such partnerships have been crucial to the development of Loudspeaker, which is classified as a 501(c)3 nonprofit. The trio has done considerable research on existing Internal Revenue Service rules and regulations, and a fundraising campaign is also being conducted.
Craig Brown, instructor of communication studies and university forensics coach, thinks Loudspeaker is an important example of student initiative.
"One aspect of President Schulz's 2025 plan is demonstrating how undergraduates are doing something important," Brown said. "Loudspeaker is an excellent example of not only what members of the university's forensics team are doing, but also what undergraduate students are doing. It's more then just earning some grades in class; they are doing something. Loudspeaker shows what we are doing matters in the real world."