Source: Joseph Craine, 785-532-3062, jcraine@k-state.edu
News release prepared by: Stephanie Jacques, 785-532-0101, sjacques@k-state.edu
Tuesday, May 19, 2009
K-STATE BIOLOGY PROFESSOR SEEKS ANSWERS TO OLD QUESTIONS WITH NEW BOOK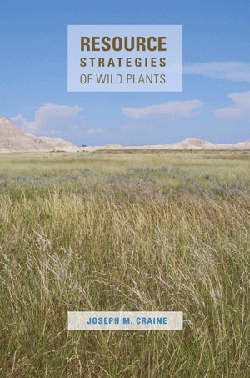 MANHATTAN -- Reconstructing the evolutionary history of the world's plant species has been a major focus for the scientific community since Charles Darwin published his book, "On The Origin of Species."
However, for Joseph Craine, grassland ecologist and research assistant professor of biology at Kansas State University, the next challenge is to understand how ecological forces have shaped the world's flora.
Craine has compiled theories and hypotheses while working in the savannas of South Africa, the alpine peaks of New Zealand and the Great Plains of North America. Research collected from his travels has facilitated his new book, "Resource Strategies of Wild Plants," published by Princeton University Press.
"A Kansas prairie like Konza holds one out of every 500 terrestrial plant species in the world," Craine said. "If we are going to take them -- no less the rest of the world's quarter million plant species -- with us into the next century, we have to understand how those species differ, the ecological and evolutionary forces that created them, and why they are still here with us today."
Answering these questions is one of the most important responsibilities for ecologists today because increases in carbon dioxide, rising temperatures and changes in our demands on natural ecosystems add great uncertainty to how ecosystems will function in the future, Craine said.
"The threats to the world's diversity might be new, but the questions that need to be answered are actually old," he said. "Technological advances and years of accumulated knowledge constantly expand the frontiers of our science, but the core questions have remained essentially the same for 150 years. The book seeks to help answer these long-standing questions."
Craine's book describes the five major strategies of growth for terrestrial plants, details how plants succeed when resources are scarce, delves into the history of research into plant strategies, and resets the foundational understanding of many ecological processes.
Craine received his doctorate from the University of California at Berkeley in 2000 and joined K-State's Division of Biology in 2007.
More information about his book is available at http://press.princeton.edu/titles/8951.html