Source: Jim Hohenbary, 785-532-6904, jimlth@k-state.edu
Photos Available. Contact media@k-state.edu or 785-532-6415.
News release prepared by: Kristin Hodges, 785-532-6415, khodges2@k-state.edu
Monday, March 30, 2009
K-STATE STUDENT FROM OLATHE IS UNIVERSITY'S 64TH GOLDWATER SCHOLAR; WELLINGTON STUDENT RECEIVES HONORABLE MENTION
MANHATTAN -- Ryan Gallagher, senior in microbiology and premedicine, Olathe, is Kansas State University's 64th Barry M. Goldwater scholar, while a second K-State student, Erik Stalcup, junior in physics, Wellington, received honorable mention in the scholarship competition.
The 2009 Goldwater scholars were selected based on academic merit from a field of 1,097 mathematics, science and engineering students nationwide.
"Congratulations to both Ryan Gallagher and Erik Stalcup in this year's Goldwater scholarship competition," said Jon Wefald, K-State president. "Ryan and Erik show great promise in their future research careers and already have proven successful in their undergraduate research experiences at K-State."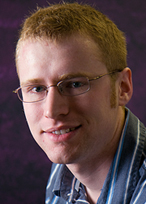 Gallagher is among 278 Goldwater scholars this year. The scholarship provides up to $7,500 annually for the scholar's final one or two years of undergraduate studies. In the Goldwater competition, K-State ranks first nationally among all 500 state universities and is tied for third place nationally among the 2,000 four-year colleges and universities, said Jim Hohenbary, K-State assistant dean for nationally competitive scholarships.
Gallagher plans to attend medical school and earn a doctorate in immunology. He would like a career that balances teaching and patient responsibilities with continued involvement in research. He has worked under Stephen K. Chapes, professor of biology at K-State, performing immunology research. Gallagher is studying the effects of a protein, CD81, in the survival rates of mice and CD81's role in cell development. He also has conducted research at an immunology lab at the University of Kansas Medical Center and will have an article in the June 2009 Journal of Comparative Medicine regarding the experimental autoimmune encephalomyelitis model, which is a model of multiple sclerosis.
At K-State, Gallagher is a member of the Alpha Epsilon Delta premedicine honorary society and a University Experience peer mentor. He also is a Howard Hughes Medical Institute Undergraduate Research Scholar and has received a Most Promising Student award from K-State's Division of Biology. Gallagher is a recipient of K-State's Henry J. Putnam Scholarship and has received funding from the Kansas IDeA Network of Biomedical Research Excellence. A 2006 graduate of Olathe East High School, he is the son of Don and Linda Gallagher, Olathe.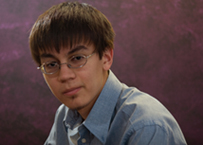 Stalcup plans to earn a doctorate in physics and then conduct research at a national laboratory. While at K-State, he has worked under Bruce Law, a professor of physics. Stalcup recently has researched the spreading properties of ionic liquids, working in the Max Planck Institute in Germany and at K-State. At K-State, he also has worked with the Nanoscale Interdisciplinary Research Team and has studied gold nanoparticles.
Stalcup is a member of the Smith Scholarship House, where he has served as scholarship chair and as a Mediation Board member. He has been a member of the K-State Marching Band, Pep Band, Latin Jazz Ensemble and Jazz Band. Stalcup has received the K-State Presidential Scholarship and the Basil and Mary Curnutte Scholarship. A 2006 graduate of Wellington High School, he is the son of John and Ood Stalcup, Wellington.