Source: Kathrine Schlageck, 785-532-7718, klwalk@k-state.edu
Web site: http://beach.k-state.edu/
Photo available. Contact media@k-state.edu or 785-532-6415
News release prepared by: Caitlin Muret, 785-532-7718, cmuret@k-state.edu
Wednesday, June 17, 2009
K-STATE BEACH MUSEUM OF ART'S KATHRINE SCHLAGECK TO RECEIVE A GOVERNOR'S ARTS AWARD
MANHATTAN -- Kathrine Schlageck, senior educator at Kansas State University's Marianna Kistler Beach Museum of Art, is receiving the Governor's Arts Award for arts in education.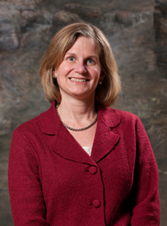 The Governor's Arts Awards, which were started in 1974, are given each year to distinguished Kansas artists, organizations, patrons and educators. Schlageck will be recognized at an awards ceremony Thursday, June 18. The awards are given jointly by the governor and the Kansas Arts Commission.
"Kathrine is an educational innovator and the Beach Museum of Art is fortunate to have her on staff," said Lorne Render, director of the Beach Museum. "The gallery and exhibition tours and the hands-on activities she organizes bring art to life. We are indeed pleased she received this statewide recognition of her many talents."
Schlageck has been with the Beach Museum of Art since before its official opening in 1996. She has 23 years of museum education and curriculum development experience in both art and history museums.
At the Beach Museum, she creates programming for a wide variety of museum patrons, including school children, teachers and the elderly. Schlageck's programs have been recognized by the National Endowment for the Arts, the Kansas Department of Education and the Kansas Arts Commission. She previously has been honored as the Museum Education Art Educator of the Year and the Western Division Museum Education Art Educator of the Year.
More information on the Beach Museum of Art is available by calling 785-532-7718 or dropping by the museum on the southeast corner of the K-State campus at 14th Street and Anderson Avenue. Admission is free, and complimentary visitor parking is available next to the facility. Museum hours are 10 a.m. to 5 p.m. Tuesday, Wednesday, Friday and Saturday; Thursday 10 a.m. to 8 p.m. until July 2; and Sunday 12 to 5 p.m. The museum is closed Mondays.