Source: Jim Hohenbary, 785-532-6904, jimlth@k-state.edu
Photos available. Contact media@k-state.edu or 785-532-6415.
News release prepared by: Kristin Hodges, 785-532-6415, khodges2@k-state.edu
Wednesday, Feb. 18, 2009
THREE K-STATE STUDENTS ADVANCE TO FINALS OF TRUMAN SCHOLARSHIP COMPETITION
MANHATTAN -- Three Kansas State University students have advanced to the final round of the Harry S. Truman Scholarship competition, which provides nationally competitive scholarships of up to $30,000 for graduate studies to college students preparing for a career of leadership in public service.
As finalists for the prestigious award, Robert Gomez and Molly Hamm, both of Shawnee, and Dena Bunnel, Welda, will be interviewed with other finalists from Iowa, Kansas and Missouri March 2 at the Charles Evans Whittaker Courthouse in Kansas City, Mo. Scholarship winners will be announced March 26.
K-State is first in the nation among public universities in producing Truman scholars – 30 and one alternate – since the first awards were made in 1977.
Truman scholars are selected primarily on the basis of leadership potential and communications skills, intellectual strength and analytical ability, and likelihood of making a difference in public service.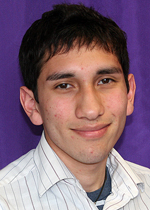 Bobby Gomez
Gomez is a senior in elementary education. He plans to apply for Teach for America and then pursue graduate studies in social justice education or sociology and education policy. He later plans to work for a nonprofit education organization and then to return to higher education as either a professor of education or as director of diversity. His community service has included coaching a Little Apple Soccer Club team and volunteering at the Wonder Workshop, a nonprofit after-school program in Manhattan. He is the secretary of Sigma Lambda Beta, an international fraternity, and a volunteer for the K-State Proud Campaign. Gomez is president of Mortar Board, the senior honor society, and a member of the Kappa Delta Pi, the education honor society. He also is a member of the Developing Scholars Program, a K-State Collegian writer and has served as a College of Education ambassador. He has received the Wallace Family Memorial Scholarship and the Joey Lee Garman Undergraduate Multicultural Student Scholarship. A 2005 graduate of Shawnee Mission Northwest High School, he is the son of William Gomez and Julie Alvarez-Gomez.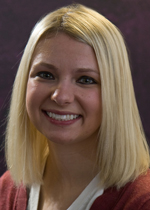 Molly Hamm
Hamm is a senior in English literature and secondary education and is pursuing a secondary major in international studies and a minor in nonprofit leadership. She plans to teach English at the high school level in the public school system and then complete graduate studies in international and comparative education. She would eventually like to work in curriculum and instruction at the district level before ultimately having a career working with learning and innovation at the state Department of Education.
At K-State, Hamm is a student senator and has been a chair of several Student Governing Association committees. She is president of the K-State Student Foundation, and is a member of K-State's Delta Delta Delta sorority, Mortar Board Senior Honor Society and American Humanics Student Association. She serves on the planning committee for the IMPACT National Student Conference on Service, Advocacy and Social Action. She has served on K-State's Panhellenic Council and is the honors program representative for the Teacher Education Advisory Council. She is the founder of the university's Greeks Going Green initiative and is a founding member of the K-State Student Sustainability Coalition. She has served as an AmeriCorps-Kansas Community Youth Service Corps member, a K-State Volunteer Center of Manhattan Start Up Team member, a Teach for America campus liaison, a United Nations Environment Programme "Kick the Carbon Habit" Campaign Youth Network representative, secretary of the K-State Child Development Center advisory board, and has interned in the Kansas House of Representatives. Hamm has received the Marjorie J. and Richard L. D. Morse Family and Community Public Policy Scholarship and was selected to attend the Clinton Global Initiative University in New Orleans in the Energy and Climate Change Category. She has received a Next Generation Nonprofit Leader Award from American Humanics and a Greek Woman of the Year Award from K-State. A 2005 graduate of Shawnee Mission Northwest High School, she is the daughter of Tim and Lori Hamm.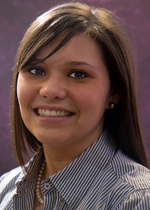 Dena Bunnel
Bunnel is a senior in political science and agricultural communications and journalism. Her career goal is to work for an agricultural extension program in Africa to promote sustainable agriculture practices. She is a member of Blue Key, a senior honor society; the K-State Student Alumni Board; the Collegiate Farm Bureau; and the K-State Proud advisory board. She also is a member of the K-State Women's Fastpitch Softball Club and a former vice president and treasurer of Agricultural Communicators of Tomorrow. She has been a K-State College of Agriculture's Student of the Month and a Kansas Farm Bureau Discussion Meet winner. She has received the K-State Foundation Scholarship, the Lou Douglas Scholarship and a Political Science Departmental Excellence Award. A 2005 graduate of Anderson County High School, she is the daughter of Russell and Margie Bunnel.