Kun Yan Zhu
Professor of Entomology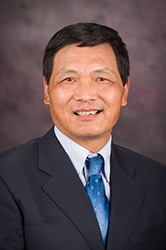 Kun Yan Zhu knows insects from the inside out. His research specialties are insect toxicology and molecular biology. He researches how pesticides kill insects and how insects respond to pesticides at a cellular and molecular level. His research is to help control insect pests safely, effectively and sustainably.
His research encompasses biosynthesis and metabolism of chitin, a vital component of insect exoskeletons and other body parts, Bt toxin and insect gut interactions,functions of insect acetylcholinesterases, mechanisms of insecticideresistance, toxicogenomics of pesticides and gene silencing-based insect control methods. He has a patent pending for double-stranded RNA-based nanoparticles for insect gene silencing.
Zhu has written more than 130 journal articles, books and book chapters. He is a member of select professional societies, including the American Association for the Advancement of Science, the American Chemical Society, Entomological Society of America, Gamma Sigma Delta honor society of agriculture, Sigma Xi scientific research society and the Overseas Chinese Entomologist Association for which he was president in 2010. in 2012 he was named a fellow of the American Association for the Advancement of Science.
He can be reached at 785-532-4721 or kzhu@k-state.edu.