Wenqiao "Wayne" Yuan
Assistant professor of biological and agricultural engineering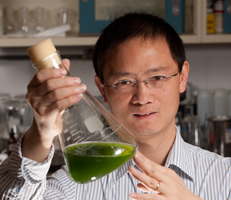 Wenqiao "Wayne" Yuan is an engineer of renewable energy. He develops and promotes the use of next-generation clean energy to replace petroleum fuels. His primary research focuses on bioenergy and bioproducts. His current research interests include biofuels and biomaterials, biological systems and bioprocessing, and biotechnology.
Yuan received a National Science Foundation CAREER Award in 2010 to fund his research testing if micro- and meso-scale structures of solid carriers, thin sheets of metals or polymers, enhance attachment of algae. He hopes to make algae-based energy economically viable and expand existing knowledge on the utilization of algae as renewable energy. He has also received numerous research grants from the National Science Foundation, the U.S. Department of Transportation, U.S. Department of Energy, U.S. Department of Agriculture and international agencies in the past five years.
Yuan received his bachelor's and master's degrees from China Agricultural University in Beijing. He received his doctorate from the University of Illinois at Urbana-Champaign. Yuan has received numerous honors and awards, such as the K-State Faculty Development Award, National Science Foundation fellowships, and the American Society of Agricultural and Biological Engineers' Superior Paper Award, Research Award and Scholarly Achievement Award.
Yuan can be contacted at 785-532-2745 or wyuan@k-state.edu.