Jeffery Williams
Professor of agricultural economics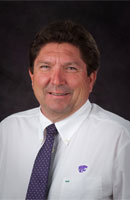 Jeffery Williams, professor of agricultural economics at Kansas State University, is part of a team of researchers at the Kansas Agricultural Experiment Station. Williams focuses his research on natural resource and farm risk management issues related to commodity production. An additional research focus includes economic analyses of investing in new technologies.
He has studied the effects of irrigation systems, replanting strategies and crop rotation, as well as the effects of environmental and insurance provisions of agricultural policy on Kansas farms.
Some of his current research includes best management strategies for improving water quality and reducing sedimentation of Kansas reservoirs, evaluating the risk versus returns from alternative cropping and tillage strategies and whole farm revenue insurance, and economic issues of biomass production.
He was part of a team that was awarded the 2009 U.S. Department of Agriculture-Cooperative State Research, Education and Extension Service Partnership Award for Mission Integration. In 2004 he received the Gamma Sigma Delta Distinguished Teaching Award. Williams also has received awards for distance education as a member of the master of agribusiness program instruction group. He received the Gamma Sigma Delta award for outstanding research and was recognized by Mortar Board for outstanding teaching and advising. He also has received the Sigma Xi Outstanding Scientist award and several other teaching awards.
Williams received his bachelor's degree in environmental resource management from Pennsylvania State University, and his master's and doctoral degrees in agricultural economics from Michigan State University.
Williams can be reached at 785-532-4491 or jwilliam@k-state.edu.