LaBarbara Wigfall
Associate professor of landscape architecture and regional and community planning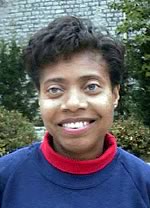 LaBarbara James Wigfall, associate professor in the department of landscape architecture and regional and community planning, has worked with students in the United States and internationally. She was the only designer/planner selected to be on a Fulbright-Hays curriculum development team in the West African nation of Senegal.
She helped the small Kansas town of Nicodemus preserve its heritage. The town was founded as a settlement for former slaves in 1877, and Wigfall was hired by the National Park Service in 1983 to document the town's rich history. Nicodemus is the last remaining African-American settlement west of the Mississippi, and Wigfall's research prompted the National Park Service to dedicate the town as a National Historic Site in 1996.
Today, Wigfall's primary areas of focus include historic preservation, community development and urban planning. However, she still studies the post-slavery settlement patterns of African Americans.
She has been recognized for her contributions to the advancement of students of color while at K-State. She was the 1995-96 recipient of K-State's Conoco Presidential Award for Distinguished Service to Minority Education.
Wigfall earned her bachelor's degree in architecture from Howard University and her master's in city and regional planning from Harvard University. She joined the K-State faculty in 1987.
She can be reached at 785-532-2446 or lbjw@k-state.edu.