Anna Whitfield
Associate professor of plant pathology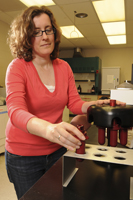 Anna Whitfield is an associate professor of plant pathology and an ancillary faculty member in the department of entomology.
Her primary research focuses on investigating plant-virus-vector relationships at the molecular level. The goal of this research is to develop an understanding of the intricate series of events leading to virus acquisition and transmission by vectors. Her research has appeared in numerous publications and has been supported by grants.
Whitfield has received various awards for her work in plant pathology and virology. In 2010 she received a $1 million National Science Foundation CAREER Award to continue her research. The five-year award will allow her to study how insects, which serve as vectors carrying viruses from one plant to another, respond to the viruses themselves.
Whitfield received her bachelor's in biological science from the University of Georgia, received her master's in plant pathology from the University of California-Davis and her doctorate, also in plant pathology, from the University of Wisconsin.
Whitfield can be contacted at 785-532-3364 or aewtospo@k-state.edu.