Karin Westman
Head and associate professor, department of English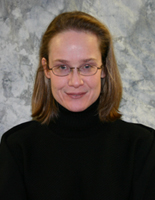 Karin Westman specializes in 20th-century and contemporary British literature. She also has research and teaching experience in British and American modernism, women's studies, children's literature, gender studies, history of the novel, drama, poetry, composition and technology, and information literacy.
She is the author of "Pat Barker's Regeneration: A Reader's Guide," as published by Continuum Publishing in 2001. She also is currently writing two books: "The New Realism: British Women Novelists Since 1950," and "J. K. Rowling's Library: Harry Potter in Context."
Westman has published articles on a variety of topics, including English author Virginia Woolf and historiography; contemporary British culture in J.K. Rowling's Harry Potter novels; novelist A.S. Byatt's relationship to Woolf; the romance novels of author Georgette Heyer; and information literacy. As an expert on the Harry Potter series, she has been quoted by several media outlets, including the New York Times, USA Today, London Free Press and Kansas City Star. She also was a guest lecturer and panelist in Toronto, Ontario, Canada.
Westman has taught a variety of courses, including Women in Literature and the seminar Harry Potter and Literary History. She currently teaches the course Jane Austen and Her Legacy. She has served as the English department's technology coordinator, assisting with integrating technology for teaching and research.
She received her bachelor's degree in English and French studies with high distinction from Wellesley College, and her master's degree and doctorate in English from Vanderbilt University. Before coming to K-State, Westman was an assistant professor of English at the College of Charleston in South Carolina.
Westman received the Mary Lyons Prize for Writing from Wellesley College; the Summer Research Grant from the College of Charleston; and the Dissertation Enhancement Grant, University Teaching Fellowship and University Fellowship from Vanderbilt University.
Her various grants and awards from K-State include the University Small Research Grant, Assessment Mini-Grant, Distance Learning Grant, Faculty Development Award, S.A.G.E. Graduate Faculty Distinguished Teaching Award from the department of English, and the William L. Stamey Excellence in Teaching Award from the College of Arts and Sciences.
Westman can be reached at 785-532-2171 or at westmank@k-state.edu.