Michael Wesch
Associate professor of cultural anthropology
University distinguished teaching scholar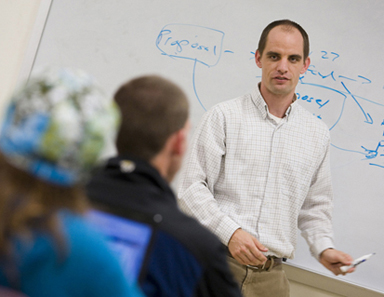 Dubbed "the prophet of an education revolution" by the Kansas City Star and "the explainer" by Wired Magazine, Michael Wesch is a cultural anthropologist exploring the effects of new media on society, culture and education.
After two years studying the effects of writing on a remote indigenous culture in the rain forest of Papua New Guinea, he has turned his attention to the effects of social media and digital technology on global society. His videos on culture, technology, education and information have been viewed by millions, translated in more than 15 languages and are frequently featured at international film festivals and major academic conferences worldwide.
Wesch has won several major awards for his work, including a Wired magazine Rave Award, the John Culkin Award for Outstanding Praxis in Media Ecology, and he was named an Emerging Explorer by National Geographic.
He also has won several teaching awards, including the 2008 CASE/Carnegie U.S. Professor of the Year for Doctoral and Research Universities.
Wesch graduated summa cum laude from the Kansas State University anthropology program in 1997 and returned as a faculty member in 2004 after receiving his doctorate in anthropology at the University of Virginia, where he pursued research on social and cultural change in Melanesia, focusing on the introduction of print and print-based practices like mapping and census-taking in the Mountain Ok region of Papua New Guinea. He lived in the region for a total of 18 months between 1999 to 2003. This work inspired Wesch to examine the effects of new media more broadly, especially digital media.
To this end, Wesch launched the Digital Ethnography Working Group, a team of undergraduates exploring human uses of digital technology. Coinciding with the launch of this group, Wesch created a short video, "The Machine is Us/ing Us." Released on YouTube on Jan. 31, 2007, it quickly became one of the most popular videos in the blogosphere and has now been viewed more than 12 million times.
He followed up the success of "The Machine is Us/ing Us" with "A Vision of Students Today," a short video he created with 200 K-State students exploring the state of higher education today. The video was the most popular video on the Web in October 2007 and now has more than 4 million views.
Wesch also has led K-State undergraduate students in a three-year study of YouTube culture. The resulting 55-minute video has now been viewed more than 1 million times and was called "a phenomenon" by the New York Times.
After years of experimenting with social media and assessing the learning potential of these tools, Wesch argues that they don't automatically foster significant learning or establish genuine empathy or meaningful bonds between professors and students. Using social media is but one of the many possible ways to connect, but the message that he says his experimentation brings is that only genuine connections may restore the sense of joy and curiosity that we hope to instill in our students.
Wesch can be reached at 785-532-6866 or mwesch@k-state.edu.