Ruth Welti
University distinguished professor of biology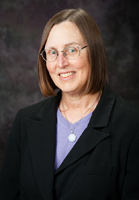 Ruth Welti, university distinguished professor of biology, studies the chemistry and biochemistry of lipids. She is director and co-founder of the Kansas Lipidomics Research Center, which is used by scientists around the world as a resource for lipid analysis by mass spectrometry. She has been influential in introducing mass spectrometry as a tool for analysis of lipids, particularly to plant biologists.
Welti's research has appeared in more than 100 publications. Her work has been funded by agencies such as the National Science Foundation and the National Institutes of Health. Her current work is aimed at determining the role of lipid compositional alterations in the response of plants to environmental stresses such as temperature changes and exposure to pathogens. Welti received the Kansas Technology Enterprise Corporation Scholar award in 2006 and the Outstanding Senior Scientist Award from the Kansas State University chapter of Sigma Xi in 2008.
Welti serves on five journal editorial boards, including the board of the Journal of Biological Chemistry. She has mentored five graduate students, 66 undergraduate students and eight postdoctoral researchers in her research group. In 2012 she was named a fellow of the American Association for the Advancement of Science.
She received a doctorate in biological chemistry from Washington University in St. Louis and graduated with honors with a bachelor's degree in chemistry from the University of Connecticut. Before joining Kansas State University in 1985, she was a postdoctoral fellow and research assistant professor of biochemistry at the University of Kansas Medical Center.
Welti can be reached at 785-532-6241 or welti@k-state.edu