Mark L. Weiss
Professor of anatomy and physiology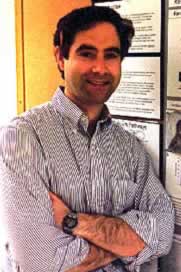 Since arriving at K-State in 1991, research by Mark Weiss, a professor of anatomy and physiology in the College of Veterinary Medicine at Kansas State University, has been supported by grants from the National Science Foundation, the American Heart Association and the National Institutes of Health.
In the first phase of his research career, Weiss traced the neural pathways involved in blood pressure and fluid regulation using neurotrophic viruses. In response to the discovery by Weiss and colleagues of a novel and inexhaustible source of mesenchymal stromal cells within the umbilical cord, his research focus shifted to stem cell biotechnology in 2003. His lab is currently working on ways to move these umbilical cord cells into clinical trial for graft versus host disease.
In 2010, Weiss produced embryonic stem cells with the intent of using this technology to advance cellular therapy and regenerative medicine. The Weiss lab is working on the mechanisms of pluripotency in embryonic stem cells and the production of induce pluripotent stem cells from mesenchymal stromal cells. The focus of this work is to efficiently produce new models of human disease. This work will develop novel cells or therapies for neurological disorders such as Parkinson's disease, stroke and spinal cord injury.
Weiss won a Bausch and Lomb Science Medal in 1977 and was invited to participate in a 1984 NATO conference in Italy titled "Physiology of Thirst and Sodium Appetite." He also was a keynote speaker at the 2001 meeting of the National Physiological Society of Mexico.
He is a founding fellow of the Midwest Institute for Comparative Stem Cell Biotechnology and serves as associate director of the Terry C. Johnson Center for Basic Cancer Research at K-State. He has served as a scientific consultant to stem cell biotechnology start-up companies and stem cell biotechnology advocate groups. Currently, he is a scientific adviser for the Parent's Guide to Cord Blood Foundation.
A fellow of the American Society for Neural Therapy and Repair, Weiss also is a member of the American Association for the Advancement of Science, American Physiological Society, American Association of Anatomists, International Society for Stem Cell Research, the Society for Neuroscience and the Foundation for Biomedical Research.
He received his bachelor's degree in biology from Rensselaer Polytechnic Institute and his doctorate in biology from the University of Pennsylvania. Weiss served a postdoctoral fellowship in neuroscience at Michigan State University. He spent a sabbatical working in the lab of Dr. Mahendra S. Rao at National Institutes of Health in 2003-2004.
Weiss can be reached at 785-532-4520 or mlweiss@k-state.edu.