Philine Wangemann
University distinguished professor of anatomy and physiology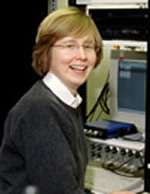 Philine Wangemann is well known around the world for her contributions to the fields of cochlear and epithelial physiology. Research in Wangemann's laboratory centers on epithelial physiology and vascular biology of the inner ear with the goal to prevent deafness and vestibular disorders in humans and animals. Basic research performed in her laboratory is aimed to ultimately benefit more than 28 million people in the United States that are deaf or hard of hearing and about 2 million that are impaired by dizziness or have difficulties with balance.
Wangemann has been awarded more than $4.7 million to fund her research. She has published 64 peer-reviewed articles and 17 chapters or invited papers. She directs the Confocal Microfluorometry and Microscopy Core and co-directs the Molecular Biology and Biochemistry Core in K-State's anatomy and physiology department. She teaches Cell Signaling and Pharmacodynamics in the veterinary curriculum. She reviews grant applications for the National Institutes of Health and speaks before national and international scientific audiences on a regular basis. Wangemann was recognized with K-State's 2006 Commerce Bank Distinguished Graduate Faculty Award.
Wangemann received her degree in biology in 1985 from Justus-Liebig University in Giessen, Germany. She worked at the Max-Planck Institute for Biophysics in Frankfurt, Germany, and received her doctorate in 1987 from the Albert-Ludwigs University in Freiburg, Germany. She joined K-State in 1998 and was named a University Distinguished Professor in 2008.
Wangemann can be reached at 785-532-4863 or wange@vet.k-state.edu.
Pronouncer: Fee-lee-na Vong-uh-mun