Barbara Valent
University distinguished professor of plant pathology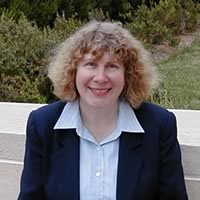 Barbara Valent, a fungal molecular geneticist, joined the K-State faculty in the department of plant pathology in October 2001. Her research is in the area of molecular genetics of pathogenicity and resistance in the Magnaporthe grisea-rice pathosystem. Her research centers on improving key cereal crops, such as rice and wheat, for durable resistance to fungal diseases.
By understanding critical resistance mechanisms, scientists can manipulate and engineer the basic mechanics of plants to increase disease resistance. She pioneered and developed rice blast disease as an easily manipulated model system to understand how plants and fungi interact to lead to disease or resistance. She was first to clone and study both fungus and rice genes that determine the outcome of this interaction. Valent is applying functional genomics and advanced cell biology techniques to analyze the earliest disease events, in which the fungus is able to take over and control living rice cells.
Valent worked as a research fellow with DuPont Agricultural Products from 1997-2001, as technical leader of the Genetic Disease Resistance Program. Previously, she was with DuPont Central Research and Development as a scientist and research manager. She serves on the board of trustees for CIAT, the International Center for Tropical Agriculture in Cali, Colombia.
Valent has been named a Fellow of the American Association for the Advancement of Science for her contributions in the understanding of plant-microbe interactions, particularly in defining the mechanisms of fungal pathogenesis. Her other memberships include Fellow of the American Phytopathological Society, the Mycological Society of America and others. She holds three patents including one with other scientists for a glue purified from the rice blast fungus. She is author or co-author of more than 60 publications. In 1994 she received the Garrett Memorial Lectureship Award from the British Society of Plant Pathology. She was selected in 1996 to present the first John S. Karling Lecture for the Mycological Society of America. She was named University Distinguished Professor of plant pathology at K-State in 2002.
Valent earned her bachelor's in chemistry and her doctorate in biochemistry from the University of Colorado in Boulder.
Valent can be reached at 785-532-2336 or bvalent@k-state.edu.