Deryl Troyer
Professor of anatomy and physiology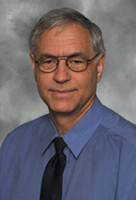 Deryl Troyer, professor of anatomy and physiology at Kansas State University, has spent his life as a research scientist and teacher focusing on developmental defects, gene mapping, stem cell biotechnology and cancer.
Troyer has discovered, along with colleagues at K-State, a novel and potentially inexhaustible source of stem cells isolated from the matrix of umbilical cords. These cells have a remarkable propensity to traffic to areas of pathology including cancer. His laboratory has shown that they can be used for cell-directed gene therapy of cancer, and is currently working on ways they can deliver other therapies such as small anticancer molecules in nanoparticles, magnetic nanoparticles for hyperthermia, or in situ photodynamic therapy. His laboratory also is investigating the role of cancer stem cells in tumor growth and invasiveness. In 2012, Troyer helped develop a cancer detection test using a patient's blood. He also helped discover a connection between cancer in pigs and humans that will help in the research and development of cancer therapies.
Troyer received his Doctor of Veterinary Medicine in 1972 and a doctoral degree in anatomy and physiology in 1985, both from K-State. He has been teaching in the department of anatomy and physiology in the College of Veterinary Medicine at K-State since 1986. Troyer also was an assistant professor in the College of Veterinary Medicine at the University of Illinois, Urbana, and was a visiting researcher in molecular genetics at Ray White's laboratory at the Howard Hughes Medical Institute in Salt Lake City, Utah, in 1988.
Troyer is a member of the American Association for Cancer Research, American International Society for Stem Cell Research, Association for the Advancement of Science, American Genetic Association, International Society for Animal Genetics and the Kansas Academy of Science. He also is involved in the American and World associations of Veterinary Anatomists and the American and Kansas Veterinary Medical associations.
His honorary memberships include Gamma Sigma Delta, Phi Kappa Phi, Phi Zeta, Alpha Zeta and Sigma Xi. Troyer also received the Pfizer Award for Research Excellence in 1996, the IVX teaching award in 2005, and the Teva teaching award in 2009. He is a laureate of the Ziestszchmann Prize for experimental veterinary embryology, and he is a founding core scientist in the Midwest Center for Comparative Stem Cell Biology.
Troyer can be reached at 785-532-4509 or troyer@vet.k-state.edu.